20 Feb 2008 - Crowd of stars gather at banquet, Shu Qi says to give Edison some space
Crowd of stars gather at banquet, Shu Qi says to give Edison some space
Source: Sina Entertainment
20th Feb 2008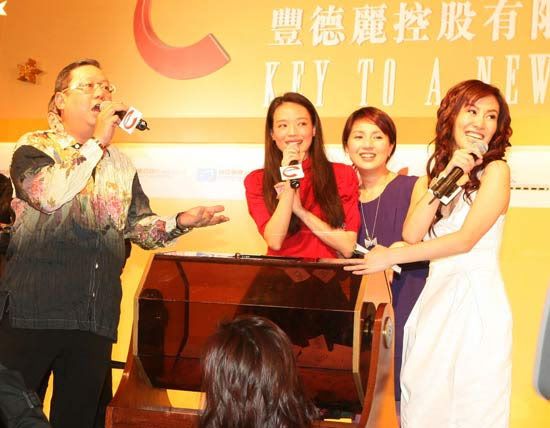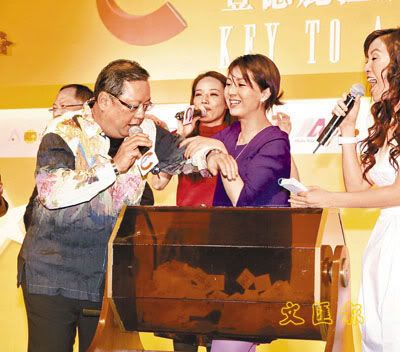 Fung Dak Lai Group held a spring banquet at Tsim Sha Tsui's InterContinental Hotel. When the banquet began, boss Peter Lam and his artists Shu Qi, Miriam Yeung, Andy Hui, Dennis Ho, Michelle Ye, Janice and Jill appeared to host the toasting ceremony. Later, they celebrated the box office success of the two Media Asia invested movies, 'Assembly' directed by Feng XiaoGang and 'Warlords' directed by Peter Chan. Mainland celebrities who have collaborated with Media Asia Fims such as Feng Xiaogang, Zhang Guoli, Huang Xiao Ming, etc were also present for the event.
The lucky draw segment last night became the most exciting moment for the entire night, Shu Qi and Miriam Yeung went together to draw onstage, Shu Qi also requested Mr. Lam to further donate ten million. When it was Mr. Lam's turn, he joked that he wanted to donate both of them to raise fund for the snowstorm mishap, requesting the guests to give a price, causing the entire place to erupt with laughter.
Peter Lam has always been very sporting, he first donated 5 million and 5 thousand as the lucky draw, and later influenced Feng Xiao Gang, Zhang Guoli, Johnny To, Andrew Lau and Huang Xia Ming to donate for the lucky draw. Shu Qi was exceptionally high. She suddenly pointed downstage while drawing, shouting to Johnny To, demanding: "Johnny, don't speak so much, just come out." The entire place was erupted with applause. Shu Qi smiled asking Johnny to donate 2 thousand dollars to the snowstorm victims, he replied, it's okay for him to donate as much as twenty thousand, Shu Qi, immediately shouted: "Johnny is donating twenty thousand for snowstorm victims"
Following on, Miriam Yeung went onstage, and together with Shu Qi, they dared Johnny to draw the prize number on Miriam's hand, Johnny laughed saying: "Where has the justice in the world gone to?" Shu Qi laughed, rushing to answer: "Justice is for police to care for, you need to draw a prize first." Under the intentional arrangements of both the girls, To indeed drew the number on Miriam's number, Shu Qi again shouted happily: "Fair and square and open (to public)." The atmosphere was filled with fun and laughter.
Shu Qi who was very high called out to her boss Peter Lam to further donate a million to raise fund, Mr. Lam impishly said: "I'll donate both of you to raise fund, don't even think of escaping. Since you like to play, I might as well donate both of you to raise fund, who wants Shu Qi and Miriam, just give me price!" Miriam and Shu Qi were unable to rebut, Shu Qi could only change the topic, and began singing birthday song to Miriam who celebrated her lunar birthday the night before last. Miriam couldn't help laughing at the comical Shu Qi: "Are you drunk?" Mr. Lam also smiled, saying lots of his artist was said to nutty, but actually the nuttiest one is actually him.
Shu Qi accepted reporter's interview at the banquet, she expressed this is the first year she gives out lucky packets, she is very happy. She has just returned to Hong Kong from Berlin, and becomes a judge this time, she watched twenty one movies in ten days, this is her first time looking at art from a different point of view. She also voted for 'In Love with Trust'
She also received lucky packet from her boss, Peter Lam, and is expected to only return to Taiwan to visit her family a week later as well as to shoot some advertisements. When discussed about the scandal of Edison Chen, Shu Qi was also aware of it, she is also worried for their future career progress. She feels the much pressure and discussions are already enough as punishment, she feels that it enough, hopefully everyone will be more forgiving towards them. She also pointed out all those involved, including Edison Chan are also very smart and good artists, hopefully they can return to work soon. As to the rumors that Edison wanted to commit suicide, Shu Qi expressed everyone will feel the pressure when meeting with obstacles, not what common people can understand, he doesn't know how to reappear, there must be a reason, hopefully everyone gives him some space.
On the other hand, Peter Lam also announced the big plans for this year that night, they will be filming the first and second of 'Water Margin' 《水滸傳》 to be directed by Andrew Lau and Johnny To and will invest 6 hundred million HKD in both the movies. Shu Qi and Andy Lau will also film a modern time romance movie, as well as Feng Xiao Gang's new work, they will be filming 6 to 7 movies in the entire year. Meanwhile, 'Sniper' starring Edison Chen will also be aired after it passes the approving panel. As for if there will be any movies this year casting Edison Chen, Peter Lam expressed they need to look into the script before selecting actors. At the same time, they will be producing concerts including artists such as Hins Cheung, Jay Chow, etc.