| | |
| --- | --- |
| Posted by Kim on June 8, 2010 at 10:25 AM | |
HKFA Actresses gather in 'Choy Li Fut Fists'; Michelle Ye, Kara Hui plays mother daughter
Source: Tengxun Entertainment
8th Jun 2010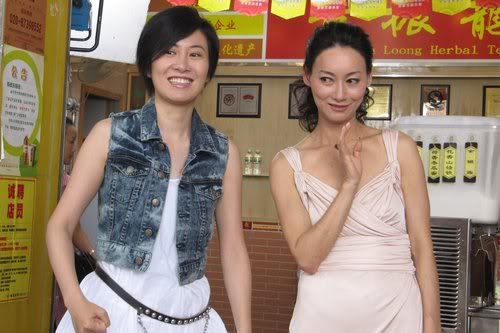 Modern time martial arts comedy 'Choy Li Fut Fist 2010' is currently rapidly filming in Guangzhou.  Leading actor Wang Baoqiang and leading actress Michelle Ye works together to play the martial art couple.  Besides the two, this year's best actress in HKFA Kara Hui is also in the cast and plays mother daughter with Michelle Ye.  Newly honored best actress appearing together with best supporting actress in one single movie, this is definitely a movie very much anticipated.
It is revealed that in 'Choy Li Fut Fists', Michelle Ye and Kara Hui will be challenging a totally different role than they had in the past.  Michelle Ye plays an amateur athlete, and got to know Wang Baoqiang coincidentally in one of the fights, where Michelle Ye got injured in the process, the two got past their differences and became a couple in the end.  Kara Hui plays mother once again, and plays mother daughter pair with Michelle Ye, ther are warm scenes as well as hilarious ones. 
Michelle Ye who won an award in HKFA through her cold-blooded role in 'Accident' will in fact play a bubbly and adorable young lady 'Jing Jing' in 'Choy Li Fut Fists', and will be demonstrating her talents in comedic scenes instead, while having innocent love with Wang Baoqiang.  Kara Hui who was once an outstanding action actress plays the owner of a herbal tea shop, she is not only a 'fashionable mother', also several times obstructs Chan Seng's (by Wang Baoqiang) wooing her daughter, Jing Jing.  She also has a good chemistry with her in-law-to-be, Chan Seng's father.