18 Mar 2009 - Michelle Ye mysteriously visits Shenzen late at night; taking last train, talking non-stop on phone
Michelle Ye mysteriously visits Shenzen late at night; taking last train, talking non-stop on phone
Source: Wang Yi Entertainment
18th Mar 2009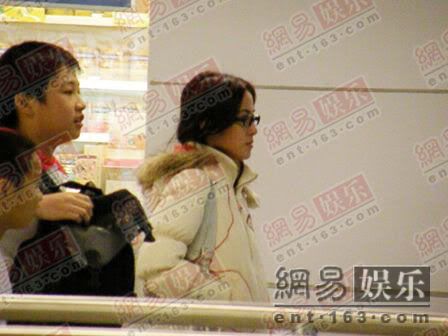 Michelle Ye going out late at night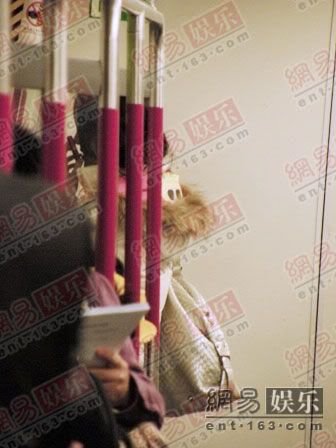 Michelle on the phone while facing the wall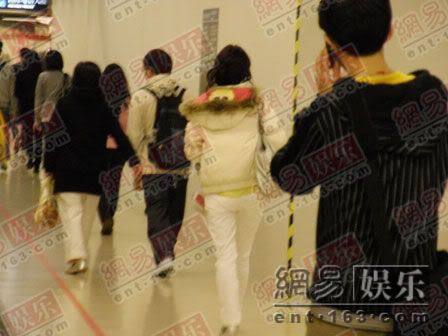 Walking towards the train station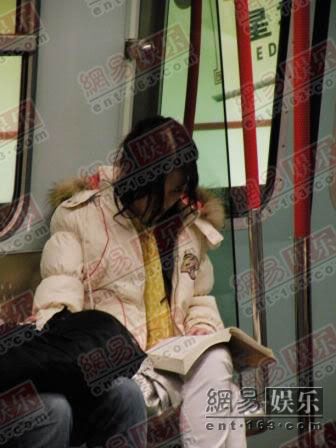 Michelle Ye lowering her head reading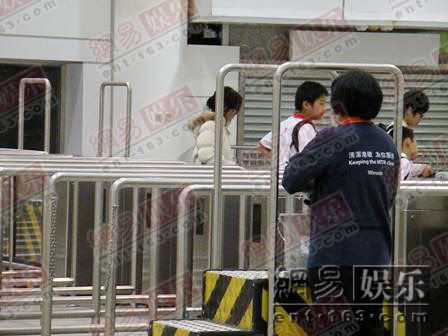 Walking rapidly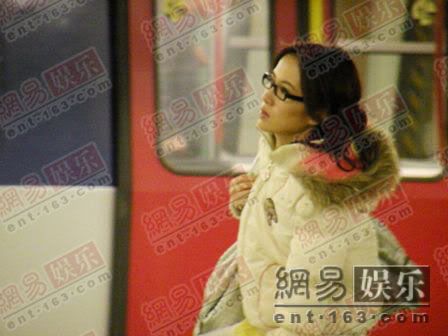 Michelle Ye not forgetting to glance back at the remaining passengers when exiting
Michelle Ye who was recently exposed to be in a relationship with Wu Jing, mysteriously took the last train to Shenzen at night, and was talking non-stop on the phone.
Wang Yi Entertainment exclusively reports that the once heavily promoted TVB fa dan, Michelle Ye, her progress after changing management company is not as smooth as expected. Earlier on when she was exposed to be hugging and kissing Wu Jing in the streets of Beijing, Michele Ye immediately return to Hong Kong, appearing to have drawn line with her rumored boyfriend. She has been lying low in Hong Kong only to be discovered travelling late on the last train to Shenzen mysteriously and was seen to be on the phone all the way.
Dressed like a student in Central
It was approximately 9 at night when Michelle Ye was discovered to appear alone in Hong Kong Central train station. Although the rumor of her and Wu Jing was recently exposed, it does not seem to have affected Michelle's mood. She was dressed in low profile sporting attired, in a black rimmed glasses, with her hair simply knotted and clutching onto a yellowing and aging 'Red Chambers Dream', from afar, she definitely looks like any other university student, and thus was not recognized by passer by to be TVB's used to be highly promoted fa dan. Michelle was on her phone while walking, and was heard to be speaking in her fluent Pu Tong Hua, and would smile sweetly from time to time.
Taking last train to Shenzen
Michelle Ye did not return home after leaving Central, but took the train to Tsim Sha Tsui before arriving at East Tsim Sha Tsui train station, she was seen to be looking around from time to time.
She took the train towards Shenzen. In the train she quickly found a seat and was immediately absorbed in reading 'Red Chambers Dream'. As it was the last train, there was not much passengers. To avoid being recognized, Michelle kept her head very low, when the journey was almost two third done, Michelle took ot her phone from time to time, texting, and later directly called, reporting "Have arrived at XX station', seeming to be reporting her journey. At approximately 11, Michelle who seemed to plan to stay over for the night did not have any luggage with her. About forty five minutes later, the train arrived at the last station, and Michelle stepped out of the train quickly, disappearing in no time.