| | |
| --- | --- |
| Posted by MYR on January 8, 2009 at 10:50 AM | |
08 Jan 2009 - Michelle Ye as guest in 'Star's Privacy'; counts back on 'men' behind her
Michelle Ye as guest in 'Star's Privacy'; counts back on 'men' behind her
Source: iFensi.com
8th Jan 2009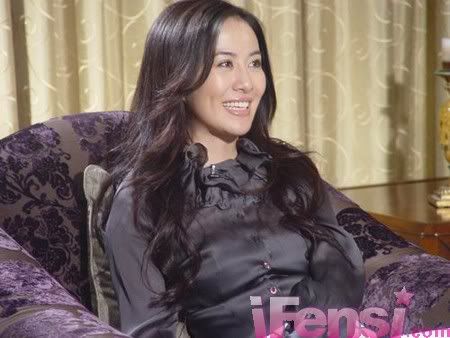 Recently, 'Star's Privacy' invited beautiful actress Michelle Ye to their show. From 'Lady Cop Papa Crook' where she played he wife of a mafia boss, to the career woman in 'Central Affairs', Michelle Ye not only impressed audience with her beauty but also won recognition from audience with her solid acting.
Michelle talked about her childhood, shared her experience of participating in the pageant right to how she entered the industry and till she achieved her success today. When the host asked who Michelle Ye would like to thank most, she was most appreciative and grateful, saying: "The person who helped me most in my career, is Mr. Lam Gin Ngok, he is my current boss, he helped me realize my dream, walking from series towards movies, allowing me to progress very well in the atmosphere of abundance of creativity, learning the art of movies, lighting, allowing my acting skills to be developed well, I believe he is the first person I need to thank. Wong Jing is my mentor, he introduced me to Media Asia, I played villain in his production, a very scheming role, including of the female who dressed as male role in 'World's Finest, where the role became comical later on, sorrowful too, he said this is in fact the molding towards taking a big step.
The host also then exposed Michelle's nickname, 'Ye Yi Tiao' (Michelle's Chinese name is Ye Xuan – Ye Yi Tiao literally means One Take Ye), Michelle explained: "I thank TVB for this nickname, they gave me the training, allowing their actors to perform within one take, this is what the director said later on, TVB actors save lots of film, its actually from all the training."