28 Nov 2008 - Michelle Ye, Tian Liang shoots outdoor events; past rumored couple has much chemistry
Michelle Ye, Tian Liang shoots outdoor events; past rumored couple has much chemistry
Source: Phoenix Entertainment
28th November 2008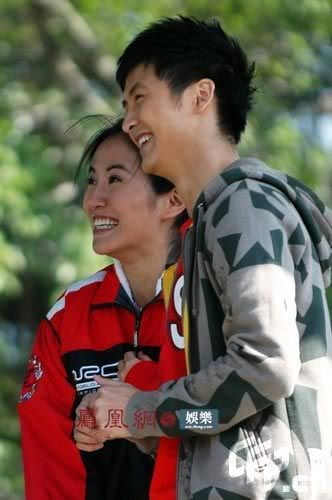 Michelle Ye and Tian Liang's sizzling chemistry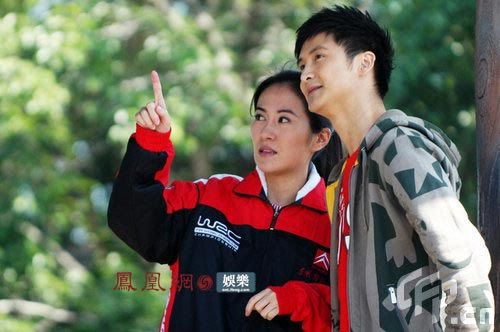 What can the couple be looking at?
Matching expressions of the couple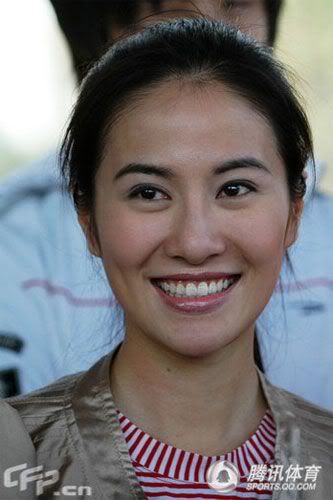 Michelle Ye, Tian Liang were both presentat Guangzhou Chime Long Entertainment World to shoot an outdoor show for a certain TV station. The couple rumored in the past has much chemistry beyond expectation.
In 2004 during the Athens Olympic, Michelle hosted a special Olympics show and was then rumored with 'diving prince' Tian Liang. Michelle also let slipped Tian Liang gave her flowers on Valentine's. Michelle who debut from Miss Chinese International Pageant, got continuous support from TVB all the while, leading in several series. Being fluent in several languages also won her the chance to host the Athens Olympics, and got the chance to interview national athletes, which included Tian Liang. In the report, Michelle mentioned that she got to know Tian Liang on the very first day of her hosting work, where both of them left deep impressions of one another, allowing the friendship to progress rapidly within the few weeks. When Michelle Ye came to mainland for work early this year, there were reporters who asked Michelle if she knew Tian Liang and his girlfriend were entering the marriage phase, she replied with an uncertain smile: "Heard of it." When asked again if she could give her 'good friend' some wishes, Michelle's smile disappeared, "I don't wish to talk about private matters at work."
--------------------------------------------------------------------------------
Tian Liang laughs to heart's content with Michelle Ye
Source: Wang Yi Sports
Hong Kong female star Michelle Ye who has not appeared in public for quite some time, recently came to Guangzhou's Chime Long Entertainment World to work with the once rumored together 'diving prince' Tian Liang, shooting a TV outdoor show. Michelle Ye who was once 'news queen' entangled in rumors with the wealthy, appeared in casual dressing, looking just like any common girl next door. While as compared to his days as an athlete, Tian Liang who is married and now a father seemed to have gained quite some weight. The past rumored couple working together did indeed seem to have chemistry beyond expectation. Tian Liang was seen laughing to his heart's content with Michelle Ye, seemingly to have let go of the unhappy incident of bumping into Guo Jing Jing in the awards ceremony not too long ago.