27 Nov 2008 - Michelle claims TVB new generation not as good as veterans; praises Johnny To to be intellectual
Michelle claims TVB new generation not as good as veterans; praises Johnny To to be intellectual
Source: ywcb.net
27th November 2008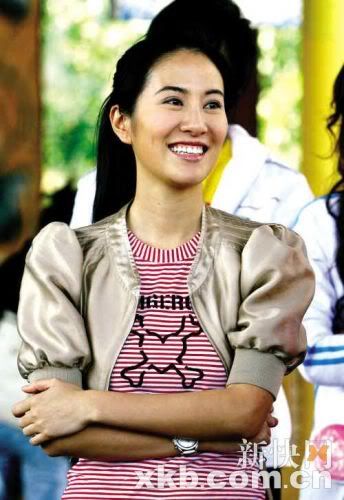 Michelle Ye who has no appeared in public for a long time, appeared on 27th at Chime Long Entertainment World, with once rumored together 'Diving prince' Tian Liang, to shoot a TV show. Michelle who dressed casual that day looked just like any other girl next door, surrounding her were no longer unceasing rumors with the wealthy or negative news of her battling with other female stars. She chatted very earnestly with the reporters on her recent movies and filming as well as her impression of her old company, TVB.
TVB's old time talents are still better
Of the recent years, TVB has been using their veterans to bring out new talents, Lee Sze Kei, Ha Yu, Michelle Yim are all 'old time talents' becoming the favorites these days. Few years back when Michelle was still a TVB fa dan, she had lots of opportunities, her image was not bad too and was once heavily promoted. "When I left TVB back then, it was because I felt more interest in the movie industries and wished to try out the filming of movies, so it was definitely not a regret. I have filmed several movies these years, and collaborated with lots of very reputable directors, I think I still did my best to improve myself." Michelle said at times she does watch TVB series, she still felt very closely bonded when she watches her ex-colleagues, "I think what I reminisces most is still the crews behind stage, even now we still do meet once in a while."
When asked if TVB classified their actors by seniority, Michelle replied very tactfully, "Actors such as Lee Sze Kei, Ha Yu and Michelle Yim has been acting for so many years are of course more widely recognized and have better performance, their experience and skills are definitely richer and stronger. Young TVB actors still need to accumulate their experience, still need more time. About classifying by seniority, I don't think we can generalize it so, I still think it is more on performance and capability, TVB s a company which treasures talents a lot, very fair."
Johnny To's movies are very intellectual
Michelle Ye mentioned that in the past year she has been busy filming movies, and is now beginning to film Johnny To's new movie, this is her second time working with To Sir this year. "I especially like To Sir because his movies are very intellectual, able to dig out the inner emotions of the roles, giving actors a very big space to perform. Just like when I played an assassin before this, she actually has several disguise, a role which earns recognition through intelligence and tears, has quite some relationship scenes, the role is very rich in charisma." Michelle said she doesn't intentionally carve a specific career path in movies industry, be it comedic, or literature arts, or police-bandits, she is willing to try, "Director Johnny To is one who is expert in filming manly movies, I haven't inclined him to film a female-themed movie for me, but I do feel very honored that he creates a very widely-performing role for me, be is the screen time or the inner emotions."