27 May 2008 - Michelle Ye races daringly for charity, worth it although injured
Michelle Ye races daringly for charity, worth it although injured
Source: Tengxun Entertainment
27th May 2008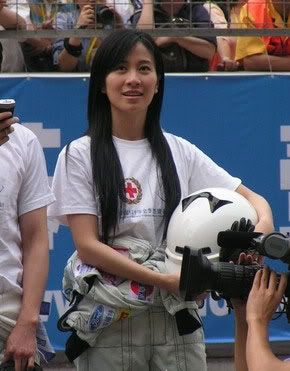 It has been more than half a month since the May 12th earthquake. After the misfortune, lots of people from all over the world are lending a hand, celebrities from the entertainment industry are also showing their care through all kinds of way. Last weekend, Jet Li's 'One Foundation' charity celebrity race was held in Shanghai where Jet Li, Michelle Ye, Bowie Lam, Sun Nan, Carlo Ng, Lee San San, Liang Jin, etc, were all present at the race.
The atmosphere of the race was very high, it was very thrilling, especially the female celebrities who were as impressive as the men. Michelle Ye who has never participated in racing before was performing exceptionally impressive under the supervision of child prodigy racer, Jim Ka To. From the eighth place she boldly and beautifully surpassed Sun Nan, Carlo Ng, Gao Qi and other male racers in succession, after the third lap, she was comfortably second. Although Michelle Ye surpassed the leading Chen Juan Hung at a point of time at the turn, but as Chen's car swayed, it forced Michelle to apply emergency brake immediately, and was further crashed from behind by Lee San San. Chen Juan Hung and Lee San San were barely affected, but Michelle Ye's car was badly damaged with punctured tires, and was forced to withdraw from the race.
Although the race was a steep competition, celebrities were all aware of their aim here – to raise fund for the unfortunates, it was this motivation that drove them to surge forward boldly. Michelle Ye who raced for the first time was yet calmed down when she expressed that due to the crash, her knee was hurting badly and nearly cried out loud, she is actually very timid. However, as this time she will be able to raise fund for the unfortunates, Michelle felt that everything was worth it. She smiled saying her driving skills were terrible, it was impossible to win, she now felt very guilty to her instructor, instructor Jim, as he was very detailed and led her to lead the race, but she instead caused instructor Jim to be bleed from injury, she felt extremely guilty. But when she got to know that the event has managed to raise seven hundred thousand Yuan, Michelle was very happy, the result of the competition was not important at all.
That night, all the celebrities attended an event of 'One Foundation'. Michelle Ye was totally absorbed into the event, winning lots of supports from the excited fans. All the fund will be donated to the unfortunates. Being able to participate in 'One Foundation' events and help the victims, showing her support in some way, Michelle Ye felt very happy, she expressed: Actually, a person's strength is barely enough, but when everyone come together, we can overcome any obstacles hand in hand.