| | |
| --- | --- |
| Posted by MYR on April 24, 2008 at 11:17 AM | |
24 Apr 2008 - Portraying national beauty Cui Ung Ung; Michelle Ye loved in ancient as well as modern (series)
Portraying national beauty Cui Ung Ung; Michelle Ye loved in ancient as well as modern (series)
Source: Tom Entertainment
24th Apr 2008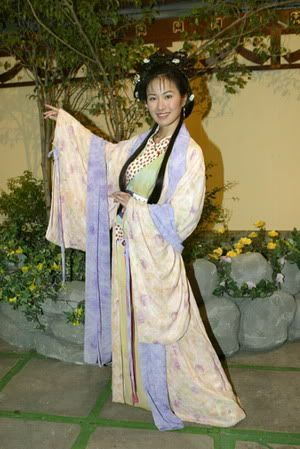 Popular actress Michelle Ye, Eric Suen lead an ancient TV series 'Liao Zhai 2' which is currently being aired on Beijing channel's golden hour slot and has earned high viewing points. Michelle Ye plays adorable Long Nu Xiao Qiao, winning the hearts of all audience. The day before last, another beautiful ancient TV series 'Lost in the Chambers of Love' is re-aired in Dong Nan channel. In the series, Hong Kong's Most Beautiful Ancient icon Michelle Ye amazes everyone with her image as the prime minister's daughter Cui Ung Ung, she is once again seen together with good looking siu sang Ron Ng who plays Cheung, revising the legendary love of the west chamber.
In 'Lost in the Chamber of Love', Cheung and Cui Ung Ung shares a relationship full of obstacles. Scholar Cheung Kwan Sui meets the precious daughter of the prime minister Cui Ung Ung and in an incident rescued her, thus the minister's wife agreed to marry Ung Ung to him. However, she took back her words later and demanded Cheung Kwan Sui to achieve some officer title before she would agree Ung Ung to be married to him. Wong Man Pan coincidentally meets with Cui Ung Ung and both of them became fast friends. Ung Ung and Kwan Sui has marriage agreement before while Mn Pan and Ung Ung were in love with one another, it became a dilemma for them. Unknown to all, behind this triangle relationship, there is still another Hong Niong who secretly admires Kwan Sui, the relationship between the four of them thus unfolds…
Michelle Ye and Ron Ng, as well as Kenneth Ma worked together again after 'Triumph in the Skies', they demonstrated scene after scene of touching love. Michelle Ye with her 'TV series queen'title has led in several popular series. Recently 'Central Affairs which is being re-aired nationwide, as well as 'Jiao Yi Sheng Ma Ma' allowed audience to admire Michelle Ye outside the ancient era. Most audience agrees Michelle Ye excels in both the ancient as well as the modern series.
Michelle Ye becomes the one actress in Hong Kong who has successfully progressed towards the big screen movies from the small screen series. She is recently busy filming a new movie of Johnny To's production and Soi Cheang's direction. Her solid basic of acting as well as her high level of adaptation will definitely allow her to propel to become the new talent of the movie industry. Earning much recognition from renowned directors, she has led in 'Sniper', 'Cha Ji Neui' etc movies, successfully entering the big screen industry.