Sexy Goddess radiates tenderness in milk bath; Michelle Ye, Alice Chan mutual intimacy instigates rumor
Source: Teng Xun Entertainment
6th April 2008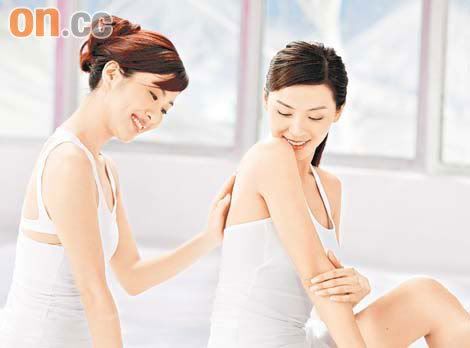 The two sexy goddesses, Alice Chan and Michelle Ye work together for the very first time, filming advertisement for new bath products. The two young ladies went into the water, but did not compete for sexiness. They in fact radiated their tenderness greatly - the Mainland cameraman who filmed for them misunderstood for a moment when he saw their mutual intimacy (touching one another).
The relationship of Alice Chan and Michelle Ye was thanks to a friend of theirs who introduced them to each other, but it was a pity that to date they yet have the chance to collaborate in films. In the bath advertisement this time, it was a rare opportunity for them to collaborate, thus they gave all their efforts before the camera.
Treats steamboat with money won
Alice Chan said when she reached the filming set on the first night, they 'dated' to play mahjong at once, to further their relationship on mahjong table. Their relationship is actually already OK. Because Michelle became the big winner of the night, winning over two thousand dollars, when the filming was over that night, she treated everyone to steamboat, it is no wonder their relationship is so good.
In the advertisement, the two sisters portray their beauty before the camera. Alice Chan struggled to lose weight before, and successfully lost weight in a short time. According to the bath products company's person in charge, Mr. Zhang, both of them have already been the spokespersons for their products for several years, with Alice Chan being with them for as long as 7 years, and as their relationship were good, both of them continued their contracts with the company for another 2 years, their pays respectively as high as a 7 digit amount.
Appreciate boss' kindness
Both the sisters thought the big pay comes with a price, but the boss protects his beauties. The filming of the water scene was coincidentally winter time, but he did not 'demand their lives' by demanding them to bath, only requested an illusionary feeling, causing both the girls to appreciate him greatly
--------------------------------------------------------------------------------
Water scene by the pool; misunderstood to be 'lesbians', Alice Chan, Michelle Ye touches each other for millions.
Source: Sun Paper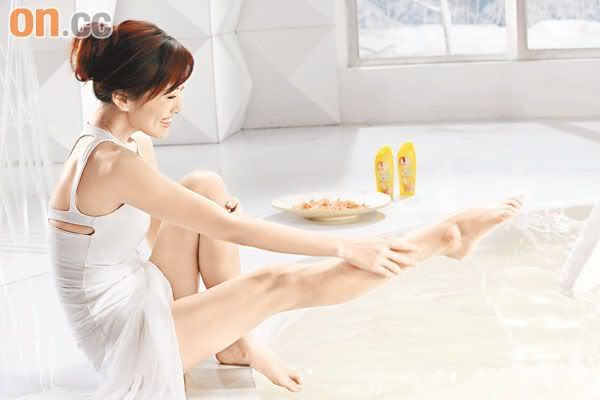 Alice Chan and Michelle Ye becomes the spokesperson for bath products for a seven digit pay each. The day before when both of them filmed the TV advertisement, they did not battle for sexiness but instead gave each other gentle touches; even the cameraman misunderstood them to be lesbians for a moment.
Alice Chan and Michelle Ye became good sisters as they have had a make-up artist friend in common, but has yet ever have the chance to work together. It is a rare opportunity that they get to work together this time, thus they put in their best efforts before the camera, radiating their tenderness, touching one another by the pool, causing the cameraman to misunderstand them to be lesbians for a moment – totally hilarious!
Alice said: "When I arrived on the first night of filming, we made a deal to play mahjong instantly, socializing on the mahjong table, our relationship has already warmed up, and then Michelle won as much as two thousand dollars so when we completed filming on the second night, she generously treated everyone for steamboat!"
Earnest to lost weight
The new bath product advertisement will be released in Mainland around mid of the year. The beauty of both of them before the camera showed Alice to be in better form as she successfully lost weight quickly using new product '爆脂機'.
Person in charge for the bath product company, Mr Zhang revealed that Michelle and Alice has both been their spokesperson for a few years, with Alice being with them for as long as 7 years. As their relationship has always been good both she and Michelle continued their contract for another 2 years, with a 7 digit amount for their respective pay. Both initially thought such a lucrative pay comes with a price, and expected to be asked to bath in the freezing weather, but luckily the boss protects his beauties and only required an illusionary feeling. Both of them only need to portray the smooth feeling of each others' skin, allowing them to comfortably earn their lucrative pay.
--------------------------------------------------------------------------------
Michelle Ye, Alice Chan, bathing together produces chemistry?
6th April 2008
Source: World Journal
Michelle Ye portraying sexiness before the camera