| | |
| --- | --- |
| Posted by MYR on March 13, 2008 at 11:32 AM | |
13 Mar 2008 - 'Happy' on 15th March: Playful Michelle Ye breakthroughs her past image
'Happy' on 15th March: Playful Michelle Ye breakthroughs her past image
Source: Teng Xun Entertainment
13th Mar 2008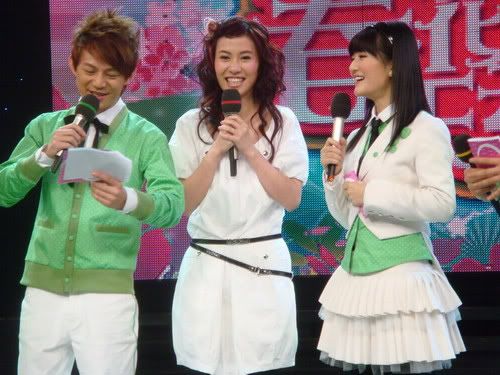 In the 'Happy' at 19:30 on Saturday, Hong Kong TV queen Michelle Ye was present. In the show, Michelle breakthroughs her past image, and was playful yet witty throughout, entertaining the audience at set. She boldly demonstrates her favorite mimic of a seahorse face, danced the Tuzki dance comically, even Na Na admitted she was not up to it. The 'pageant' in the 'Happy' show reveals how Na Na and Michelle Ye 'battled' each other, allowing others to laugh along. Do you know that Michelle has ever been a host too? In the show, Michelle boldly took the challenge to demonstrate her hosting skills, causing teacher He to instantly invite her join the 'Happy' crew. A totally different Michelle Ye will be presented to you in this episode, you are guaranteed to be in for a surprise.
--------------------------------------------------------------------------------
'Happy' Michelle Ye can cry anytime
Beijing Entertainment Post
13th Mar 2008
In this Saturday's episode of 'Happy', Hong Kong celebrity Michelle Ye won cheers from the entire set with her quick wits and humor.
At the set of the show, Michelle appeared in a youthful looking white dress, her singing and dance, wits and humor as well as the comical 'Tuzki dance' with Xie Na thoroughly entertains the entire set of audience.
In a challenge given by the host, Michelle Ye demonstrated her acting skill when her tear trickled down within 15 seconds. Michelle expressed she really liked participating in such interactive show, and even praised He Jiong to be a 'Multi-talented host'.