| | |
| --- | --- |
| Posted by MYR on March 9, 2008 at 10:28 AM | |
09 Mar 2008 - Handsome Huang Xiao Ming promotes in Hong Kong, unveils mystery of 'Sniper'
Handsome Huang Xiao Ming promotes in Hong Kong, unveils mystery of 'Sniper'
Source: Sina Entertainment
9th Mar 2008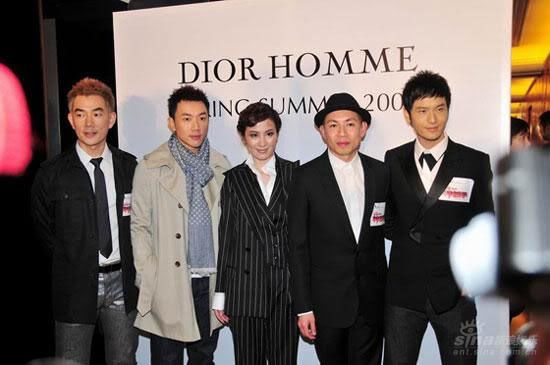 'Sniper'. Due to approval issues from Mainland, this movie is postponed to May from its initial March release. However, the promotion activity is not affected, and is successfully held in Hong Kong last weekend (7th).
World renowned fashion brand 'Dior Homme' wholly sponsors the first round of 'Sniper' press conference in Hong Kong's Peninsular Hotel. Movie leads Huang Xiao Ming, Richie Ren, director Dante Lam as well as Michelle Ye were present in the brand's design. With his popularity in Hong Kong as high as in Mainland, Huang Xiao Ming's fans were long waiting for his arrival at the entrance of the hotel.
The movie 'Sniper' is a story about the vengeance of two policemen and three 'snipers'. Huang Xiao Ming plays an unpredictably skillful 'sniper' who was framed by his colleague and was forced to leave the police force as well as losing his family. He challenged the police force for revenge after being freed from prison. It was believed that in order to achieve simultaneous release in Hong Kong and in Mainland, 'Sniper' was initially scheduled to hit the screens on March 29th, but is not postponed to May. This movie which had long ago finished editing did not do any alterations due to the 'photo scandal' of another lead, Edison Chen.
'Sniper' is a production of Golden Horse award winner director, Dante Lam. This director who is richly experienced in filming shooting battles this time uses real firearms in filming, also the most appealing part to lead Huang Xiao Ming. In the conference, Dante Lam also highly praised all the leads to be excellent. When asked of his first collaboration with Mainland popular siu sang, Huang Xiao Ming, he mentioned their collaboration is very smooth and praised him to have his way in filming, can withstand hardship and is a humble person.
It was said that Media Asia has invested much into this movie, and has arranged it for a long series of promotion. The handsome men and gorgeous woman in this movie with firearms are the appeals of this movie, this movie is definitely much anticipated.