10 Feb 2008 - New Beginning, New Achievements
New Beginning, New Achievements
Source: CHINA, Taishan Government Net
10th Feb 2008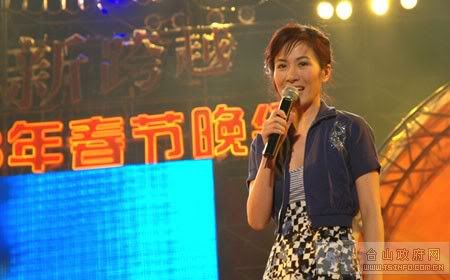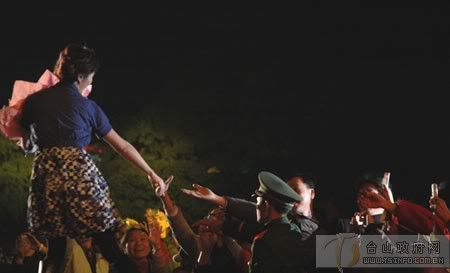 2008 Taishan city lunar festival fireworks night was grandly organized on 9th February at the sports stadium. Municipal committee deputy secretary, Mayor Liang Xuzan, CPPCC (Chinese People's Political Consultative Committee) President Huang Xiao Ling, City National People's Congress deputy director Wen Qunzhan, municipal committee member, Deputy Mayor Li Jianci, municipal committee member, propaganda Minister Huang Weihong, municipal committee member, Public Security Bureau Chief Li Guangyi, municipal committee member, City Acting Director Li Xinchao and an approximate crowd of up to ten thousand populace were all present to witness the impressive festivity.
At 8pm sharp, the North-South Lion Dance performed, officiating the event of the night. Following on were performance from Hong Kong popular artists such as Joe Ma, Bowie Lam, Gigi Lai and Michelle Ye. Their appearance immediately stirred excitement in the entire crowd. 'Zhong Guo Ren, 'Tian Mi Mi', 'Xiang Si Feng Yu Zhong'… their singing won thunderous claps from the entire audience.
The entire night focused on acrobatic performance. The events included 2005's Italy's international acrobatic championship double's champion for 'Stepping up high', 2005's national acrobatic championship champion of 'Sky Flying', China's international acrobatic championship's first runner up of 'Rainbow', etc., the thrilling and excellent performances not only caused audiences hold their breath in excitement but also won continuous cheers from them.
'Let the world be full of love' is the song sung by city's youth choir as well as the hosts. Earnest singing and sincere regards, it was a gift to those who are celebrating Lunar New Year away from home at Taishan.
At 10pm along with a majestic explosion, fireworks shot high into the skies, coloring the dark night in a second. After the show of a variety of fireworks for nearly 20 minutes, the event concluded in fireworks and chorusing of songs.