24 Sep 2007 - Good role is hard to act, Michelle has surpassed herself
Wang Li Ping: Telling the modern version story of 'The farmer and the snake'
24th Sep 2007
Ching Tou Daily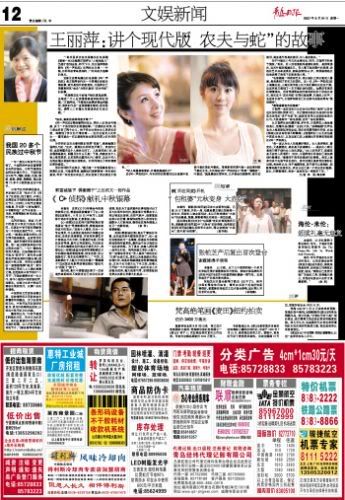 The series 'Cuo Ai Yi Sheng' led producer Wang Li Ping to gain fame nationwide overnight. Yesterday afternoon, when the two female leads of Wang Li Ping's new work 'Jiao Yi Sheng Ma Ma' were present at Ching Tou, they instantly became the focus of attention.
This series is currently being aired in Ching Tou. It is a sad family series of Wang Li Ping, and Wang Li Ping says that this is the modern version of 'The farmer and the snake' story.
"I bring up the appreciation theme through a family story." She said, "It doesn't matter how intense my story is, my work always emphasize on the theme, kind deeds will be repaid with kindness and vice versa. The main theme of my story will always be a moral and guide for humankind."
"This time around, the gentle Sun Fei Fei turns evil."
'Jiao Yi Sheng Ma Ma' is about two pair of mother daughters, the relationship of two generations, it is a story about sadness. A kind mother raises two daughters but gives the adopted daughter even more maternal love than her own true blood, she was instead repaid with all sorts of harmful deeds… This ungrateful daughter – Yuan Yue is played by the often sweet-image Sun Fei Fei.
Sun Fei Fei turns evil from her usual kind self, her performance is recognized by Wang Li Ping, "This time around, the gentle Sun Fei Fei turns evil. When I first started my creation, I too felt that this role is a bit too evil. Human somehow still have conscience, they know how to be grateful, but why isn't Yuan Yue so? Thus, I spent a lot of effort to mould this character, hopefully to portray the suffering of Yuan Yue's inner emotion, hopefully this villain is able to convince the audience. Sun Fei Fei has portrayed what I wished to depict."
Sun Fei Fei too expressed, "Yuan Yue is an evil girl who seems kind from the outer. Maybe it's because the director and the producer wanting to make this difference (evil inner, kind outer look) obvious thus they chose me to play this role."
"Good role is hard to act, Michelle has surpassed herself."
In 'Jiao Yi Sheng Ma Ma', the opposing figure to Sun Fei Fei's evilness is her elder sister, Michelle's tolerance and kindness. Hong Kong TV star Michelle Ye has always been playing straightforward and bold roles. In 'Jiao Yi Sheng Ma Ma' she plays a role who cries with no end. Michelle said, "It is the sad kind of series, almost every scene needs crying, tears falling every day. It is just like tears falling on the outer, blood dripping on the inner (heart)."
Towards Michelle Ye's effort and emotional devotion, Wang Li Ping yesterday praised her endlessly: "Actually, good roles are hard to act, it is mostly portraying her inner emotions, it is really difficult, Michelle has surpassed herself this time. Everyone who has watched her acting in this series has said that her acting career will be long, at least up to 60 years old. I really appreciate her bringing my pen created Jian Xiao Dan to life."
"TV series is a kind of team art. The reason I became popular is because I met with a brilliant team. When 'Jiao Yi Sheng Ma Ma' is aired in Shanghai, the housewives of Shanghai market begin discussing my series, this just goes to show I have yet met with another brilliant team. If there is no actors acting, no director, my modern version of 'The farmer and the snake' story is but a piece of paper."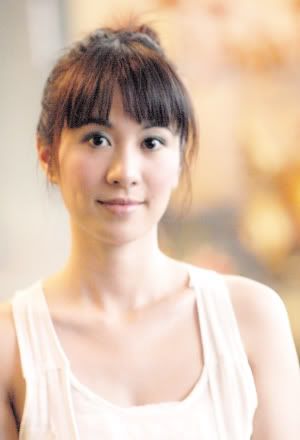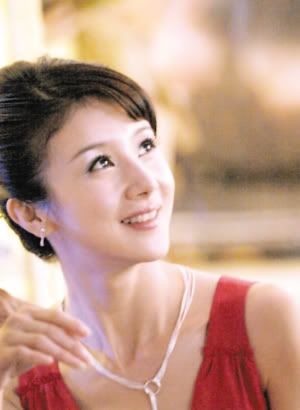 _________________________________________________________________________
Famous producer Wang Li Ping wants tears of audience, Sun Fei Fei, Michelle Ye attempts opposing roles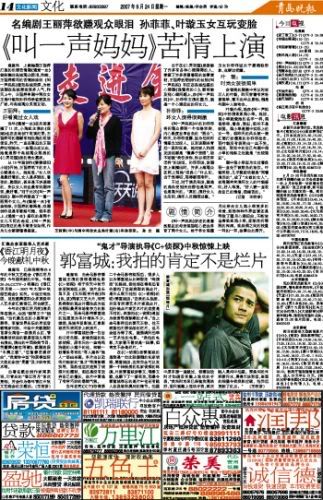 Ching Tou Evening Paper
Michelle Ye: Fashionable Girl is simple
The constantly fashionable Hong Kong series actress, Michelle Ye, yesterday was dressed in a simple pure way. She does not have the celebrity look, but instead seemed very similar to the role in the series.
Michelle Ye introduced her elder sister character Jian Xiao Dan in the 'Jiao Yi Sheng Ma Ma' series. She said, Jian Xiao Dan is just like her name, 'jian jian dan dan' (which means simply simple), kind, tolerant but definitely not weak. Jian Xiao Dan is actually the main female lead in the series, but yesterday her attention is snatched away by brightly dressed Sun Fei Fei – an elegant suit of red dress, but Michelle does not seem to mind at all. She said, in reality, her similarity to Jian Xiao Dan would be that she is 'more tolerant'.
The role Jian Xiao Dan in the series is too kind thus she is often bullied. Michelle laughed, saying, the entire series is 'acted by crying to the end'. She became 'water-made woman'. Michelle who always acts as bad woman in Hong Kong sighed: Good role is hard to act. "Good characters always suppress his (her) own emotions, its really suffering."
Wang Li Ping (middle) with her two female leads Michelle Ye and Sun Fei Fei