24 Sep 2007 - Michelle Ye: Has the urge to cry when reading script
Source: Qing Tao Net News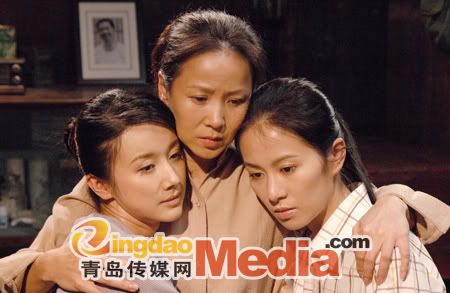 Series pic: The mother and her daughters in embrace
Wang Li Ping: We must learn to appreciate
'Jiao Yi Sheng Ma Ma' is a work of Wang Li Ping, and directed by Zhang Yao Guang, casting actors from three different lands such as Michelle Ye, Zhang Mo, Sun Fei Fei and Zhang Tian Lin. Producer Wang Li Ping explains that this series is about mother and daughter, about the background of two generations. It is about a decent and kind mother who raises two daughters, and gives even more maternal love to her adopted daughter Jian Yuan Yue (by Sun Fei Fei) than her own true blood, Jiao Xiao Dan (by Michelle Ye), but in return was given merciless hurts…
Wang Li Ping said this is the modern era of 'The farmer and the snake' story, it ends with the bad is returned with bad. She actually wants people to learn to appreciate and give back to the society. Wang Li Ping has one work out every year, she says she loves vacation. She is also often invited by variety shows for her expertise. She who has rich experience in writing claims that she has her life too while in productions.
Michelle Ye: Has the urge to cry when reading script
Michelle Ye appears in a white dress today, appearing very innocent and gentle. In 'Jiao Yi Sheng Ma Ma', she plays the elder sister Jian Xiao Dan. Michelle said, Jiao Xiao Dan is just like her name 'jian jian dan dan' (meaning simply simple), kind, tolerant but definitely not weak. In actual life, her similarity with Jian Xiao Dan would be 'tolerance'.
Michelle also said that she has quite a lot of crying scenes in this series; she may cry up to ten scenes a day. As for why she can cry so much, she said this question should be for the producer: "Why do I feel the urge to cry when reading the script?"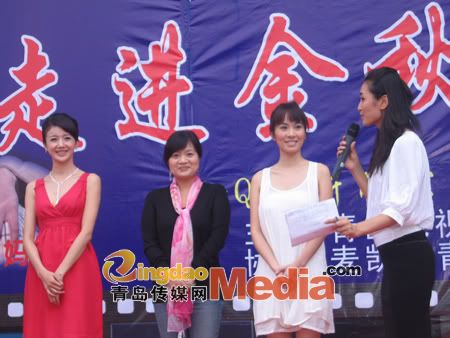 Pic: (from left) Sun Fei Fei, Wang Li Ping and Michelle Ye
Sun Fei Fei: I'm not a bad girl
Sun Fei Fei in red is definitely eye catching. As to why she would act this bad role Jian Yuan Yue, she said that she has been acting good roles in the past and been bullied, this time around, she has the opportunity and 'satisfaction to bully others'. However, she clarified that she herself is not bad, "Please do not hate me."
Sun Fei Fei said that in order to portray Jian Yuan Yue well, she even flipped the script till it was torn and made many notes before finally immersing into the role. However, after filming, she had the habit of speaking and acting like Jian Yuan Yue for two to three months. Her most spoken phrase (in the series): "Gong Ke, you listen here, I, Jian Yuan Yue…" became (in real life) "(someone), you listen here, I, Sun Fei Fei…". She wouldn't be able to suppress her laugh up to that stage; the director even suggested that she should see a psychiatrist.
'Jiao Yi Sheng Ma Ma' since being broadcasted in Shanghai East Movie channel on August 25th has been rising in viewing points and came out first. This series will begin airing on Sing Tao Channel starting tonight at 8:57, don't miss it!
--------------------------------------------------------------------------------
Source: Sing Tao Morning Paper