17 Sep 2007 - Michelle Ye auctions the highest price
Michelle Ye auctions the highest price
Guang Ming Daily
17th Sep 2007
Lawrence Ng couple and Michelle Ye were present at Seremban 1388 Country Club due to invitation from their Hong Kong friend Tam Ho Yan, where charity banquet was organized. The banquet was held at an outdoor pool with a total of 53 tables around the pool, an event of grandeur.
Besides Hong Kong artists, there were also local composers and singers present as well as local MY FM deejay as host. Besides having their respective performance, they too needed to accomplish a mission - to auction for the charity in order to raise fund for MCA Kidney Specialist Hospital.
The organizers then arranged for their mysterious guest to appear, which was a fake 'Michael Jackson', the organizers never clarified what 'mystery / charms' he had.
Following up, Michelle Ye went onstage. She did not perform onstage but instead brought from Hong Kong a CD recording of several Hong Kong stars forming a football team comprising of Lawrence Ng, Eric Tsang, Nick Cheung, Ken Tong, Emily Kwan, etc. They expressed their regards through the screen to Seremban friends. They all autographed on a football and had passed it to Michelle to auction. Michelle's charms successfully sold out history's most expensive football, it was bought by a charitable person at Malaysian Ringgit 3688.
Michelle was also responsible to auction the 'double dragon, double pearl vase'. The vase was believed to be able to enhance one's luck in audience. Lawrence Ng had raised his hand to bid for it three times, however, it ended up with a woman at the price of RM1900, Lawrence Ng was still a gentleman who clapped happily for her.
Michelle Ye finally auctioned an art work, which was also the master piece of the entire auction. It successfully became the most expensive item auctioned, sold at the price of RM8888.
When the host requested Lawrence Ng to sing, he jokingly expressed that he had been preparing to sing, but when he saw so many outstanding singers performing, he felt he was not up to standard. However if the anyone was willing to donate (for more fund) he will sing). The host began persuading the crowd, asking who was willing to donate? In the end someone donated RM3000.
When the host again asked if anyone wanted to donate money, they audience was unresponsive. Lawrence Ng immediately said: "It may be quite a burden for only one person to contribute in a charity, but if everyone donate just one ringgit, it can too be charity." He later sang 'Perhaps Love'.
He was responsible for auctioning a fan (ancient) for RM3688. During his auction, the response from the audience was just normal, it seemed to have a cool atmosphere, thus the host and Lawrence quickly wrapped up the auction.
--------------------------------------------------------------------------------
Source: Sin Chew Daily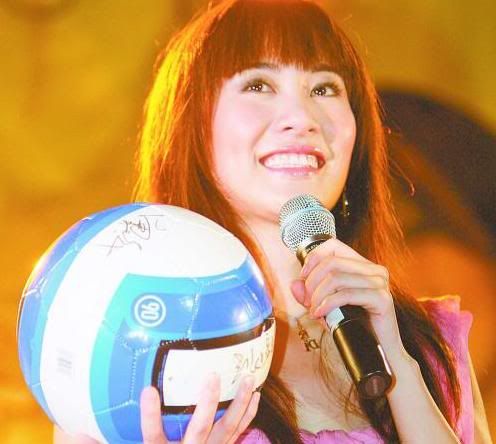 Pic: Michelle's charm is irresistible, selling the autographed football at RM3688
Pic: Under Michelle's persuasion, the art work became the highest bided item at the event, seeling at RM8888.