14 Sep 2007 - Michelle Ye and Spencer Leung become old buddies
Michelle Ye and Spencer Leung become old buddies
Sun Paper
14th Sep 2007
Michelle Ye and Spencer Leung who were rumored to not get along were present at 'Tutor Queen' banquet where the two denied the rumor agreeably. Michelle revealed that after finish filming 'San Cheung Sau', she will be accepting another police-villain film, and will later be performing in South East Asia.
Fei Ma exposes Ellen's rumors in banquet
Ta Kung Pao
14th Sep 2007
As i-cable series, 'Tutor Queen' received satisfactory viewing points after being broadcasted, they especially organized a rewarding banquet on the night before last. The casts present included Candice Yu, Michelle Ye, Spencer Leung, Ng Tin Yu, Fei Ma, etc, all celebrating under the lead of Tsui Siu Ming.
During the banquet, Fei Ma and Spencer Leung played the 'A Level Kiss' game, both of them sealed their mouth together before the crowd. Later, they even took the advantage of Ellen and Monie's absence to expose both their secrets. Fei Ma claimed that there is a female artist in the cast by the surname of Chen who spends four hours putting on makeup and still needs another half an hour of making up after taking her position. The crew always had to wait up to four hours before they can get her. Later, she insisted that she has never exposed privacy, it is merely everyone's guess. It was also reported that Ellen Chen was absent because she did not want to be present together with Fei Ma.
Ng Tin Yu scolded by brother Siu Ming
Spencer later also exposed that there is a certain female artist who clings onto her dirty coffee stained script day and night, as though she is having a nervous breakdown. He claimed that the female artist is not present as well, indirectly pointing it directly to Monie Dong. However, Tsui Siu Ming disagreed and punished Spencer to kiss a female director.
Ng Tin Yu exposed onstage that Michelle has fallen in love with one of the cast, and even claimed if she clarified it, it would cause damage to other's family. Tsui Siu Ming immediately scolded her for speaking without thinking, while Michelle's face was a blur expression. Later, Candice was punished to kiss Michelle as she couldn't find any 'juicy rumors' to expose. After the kiss, Candice praised Michelle for her soft lips, which is very nice to kiss.
Spencer Leung's misunderstanding begins from 'A Ting' (A Ting = ship in Cantonese)
While Spencer and Michelle appear very friendly that night, Spencer frankly admitted that after spending two and a half months together, he begin to know Michelle more. Towards the boycott of Michelle before, Spencer explained it was because he once called a nickname which Michelle dislike 'A Ting' (in Cantonese, Ting = Suen = ship), thus they had some misunderstanding but they've already made up now. He also claimed that when he had fever, Michelle was caring towards him, he feels that very few people will be caring nowadays. He also said he now calls her Michelle. (MYR: This nickname is explained in the forewords of Michelle's autobiography, Michelle herself likes this nickname, so she definitely is not offended about it.)
Meanwhile, Michelle expressed that she has never not get along with Spencer, and does not mind the nickname 'A Ting'. She said this name is given by one of TVB's producer Pun Ga Dak, who also happens to be her respected teacher, thus there is no reason to not like it, many friends call her by that name as well. She said she has always been good friend with Spencer, although they were not too close initially, they had never had misunderstanding.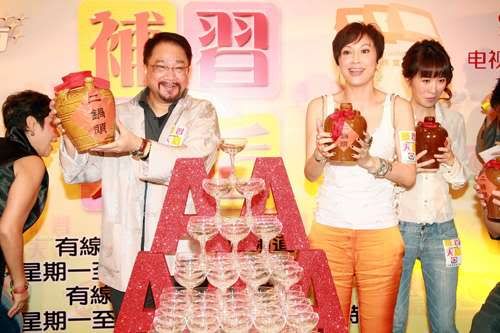 Pic: Tsui Siu Ming leads Candice Yu and Michelle Ye into the banquet.
--------------------------------------------------------------------------------
Source: Sing Tao Daily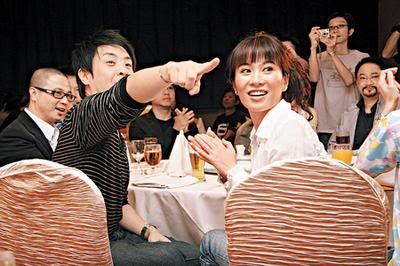 Pic: Michelle Ye and Spencer Leung chatting non stop, proving their misunderstanding is over