02 Sep 2007 - Michelle Ye takes all attacks (rumors) as complimentary
Claims no worries with good looks & good bodyMichelle Ye takes all attacks (rumors) as complimentary
Source: Apple Daily
02 Sep 2007
Entertainment circle, rumor circle
Rumors can in some way allow celebrities to shoot into fame, however, if overboard, it too can destroy the image of celebrities into dust, and Michelle Ye is a good example. In the past one year, Michelle intentionally became low profile to clear her past, in order to make a living, she goes onstage back in
Mainland once in a while.
Michelle who is tangled in rumors recently accepted to film i-cable's series, and is isolated by others. She is boycotted by Spencer Leung and Ellen Chen. Nevertheless, she still kept to her own principle, and responded: "I don't mind how others who don't know me think of me, actually many celebrities have experienced being negatively written by media, don't tell me all those in the same industry need to commit suicide." She insisted with determination and self confidence that she believe her passion for acting will allow her to stand firm in the entertainment circle.
Although Michelle had much news last year and continued to retain her 'News Queen' throne, most among her news are negative. Firstly she was said to be dumped by her rumored boyfriend 'Shell King', and then was exposed for ill-treating her assistant causing her image to deteriorate severely. It was said that her manager send her to Mainland for work in order to clear her past, to get away from Hong Kong media, and to stay away from negativity for the time being.
Boycotted outside the set
Michelle Ye accepted to film i-cable's 'Tutor Queen' earlier on, and is collaborating with senior Ellen Chen, Spencer Leung etc and immediately stirred an extreme rumor atmosphere, the atmosphere is mainly stirred by Michelle's arrogance, causing other actors to boycott her. Beyond their filming set, others had zero socializing with her and Michelle is isolated from the group like a loner.
As to the many claims above, Michelle is well prepared, saying: "Who said I don't get along with them, those are all reporters' words, we're so close, no problem to get along."
"Not speaking is claimed to not get along"
The media has visited the set several times to find Spencer and Ellen chatting away happily, Michelle however is seen to sit at a corner daydreaming. Michelle said: "Maybe it's because Spencer and I do not have as much scenes together causing this misunderstanding (of Spencer seldom speaks to Michelle). Actually, Spencer keeps treating me to snacks at the filming set, we also go for a meal or a drink outside work." Michelle claims the media usually make up story based on photos, and even said: "If I don't talk to others, you say that I don't get along, if I talk to others, you say I fake friendliness, then don't tell me I should have rumors with Spencer?" She also conveniently sang praises for him:
"Spencer is very smart, his reaction is fast."
The two troublesome queens in the 'Tutor' series has already been battling one another to win the camera attention and recently during filming, it was reported that the two chats non-stop before the camera but behind the camera, they will be facing their backs towards one another.
However Michelle instead described her relationship with Ellen to be close: "She (Ellen) is really caring towards me, she knows I do not have many relatives in Hong Kong and do not have any soup to drink so sometimes she brings her mother's soup for me. Earlier on I also helped her book air ticket, we give and take." Michelle who had once been snobbish and speaks her mind straightforwardly, however claims that she is very compatible with Ellen Chen and even praised her. Is it because they're of the same type that they get along?
Responsibility of assistant to deal with attire
Michelle also claims rumors are complimentary with filming, she said: "Every time I film series, there'll be lots of news, after filming, it will naturally die down. News nowadays seemed to be none other than rumors and gossips, I do not have any feeling towards this kind of news. I don't read or intentionally clarify them because I don't see the need. It is impossible for me to be with others (celebrities) 24 hours a day, there will definitely be a time that someone will speak of me. When I speak to people, there was a magazine who labeled me to be possessed by 'Miss Friendly'. Last time when I was in the pageant, the pageants will nominate a 'Miss Friendly' among us, and usually the chosen pageant is really harmless."
Michelle paused herself for a moment and then continued to say: "I won't be unhappy over this unrealistic news reports, I will only smile over them, my profession is an actress, I only need to do my best in acting, actually many other celebrities have experienced being negatively written by media, don't tell me all those in this profession need to commit suicide."
Image has always been important to celebrities, a healthy image is actually an asset to their profession, it brings ceaseless number of work opportunities. Michelle Ye was exposed by her ex-assistant last year to have ill-treated her assistant through scolding and mental torture. Recently, she was again shot by reporters to request her male assistant to help her take off her shoes before the crowd, but she denied such attitude towards her assistant: "I have never ill-treated my ex-assistant, I have also never forced my assistant to help me take off my shoes, sometimes the assistant is responsible to help celebrities deal with attire."
What does Michelle think about her image dipping down? She who has never wavered from her principle said: "Celebrities should also have their own life, but I don't think there's a need to be obstinate over some made up news reports, I don't mind how those who don't know me think of me, most importantly is my image among friends who know me. I don't think it worth it for me to spend any effort on this gossip news."
Not 'Cheap' to have a show in Mainland
New talents are overshadowing existing talents, what in herself that Michelle thinks allow her to stand firm in the entertainment industry? She confidently said: "Girls will believe they are beautiful and have good body. I entered from pageant so I do fulfill these conditions. To evaluate myself, I will think that I am just nice to look at, as for surviving in this industry, I think it's due to my passion for acting." Some of her jobs are arranged by her manager, she has no complains regarding having a show in Mainland earlier on, she said: "I trust the jobs that my manager arrange for me, also the media are merely guessing my pay, you can't really say it's cheap show."
Does not recognize 'Shell King', having meal with Uncle Tung
In the past, among the males who are reported with Michelle, the ones who made deepest impression should be none other than her God-Father Zheng Yu Tung and married Shell King Chan Kwok Keung. Michelle was caught by media in the year 2005 to have danced intimately with Shell King at a pub. There were claims that it was her intentional deed to gain fame through rumors, but lost it when she was dumped by Shell King. When filming 'Undercover Hidden Dragon' she was given a minor role. When asked if she keeps in touch with Shell King, she insisted: "I do not know him." It seems that she has forgotten how she had danced with Shell King, the strong photo snap evidence.
Michelle does not want to speak of Shell King, so when the topic was changed to her God Father, Uncle Tung, she replied: "Sometimes we will have a meal together." Towards her God father's shop lots which faced some troubles, she expressed that she had sent her regards. I-cable's 'Tutor Queen' will start airing tomorrow night, will she invite Uncle Tung to support, she said: "Yes, if possible."
Women should be independent
The relationship of female celebrities is influenced by entertainment industry, how is the condition of Michelle's love relationship? Michelle said: "Girls will always have someone pursuing them, we will definitely have male friends!"
Michelle who is 27 this year says that fate (for marriage) is not there for her yet, she said: "Girls nowadays are very independent, I am not someone who's dying to get married, I grew up in Mainland when young, was educated with equality, I believe equality for man and woman, I feel that a girl can be independent as well."
Sympathizes Fala Chen
Michelle emerged from beauty pageant, and has always been heavily promoted by TVB, has always been the main lead for several series. However she always gets rumors for her true emotions involved in filming. Her electrifying skill is extreme and was claimed to have been with Benny Chan, Raymond Lam and Ron Ng, etc, the list of names of her rumored boyfriend is long enough. Although she has never admitted who was in fact her prince charming, her strong wattage has allowed her to be crowned super "flirt", males do not approach.
Beautiful girl with good conditions
Michelle's contract with TVB ended in 2005 and changed to Lam Kin Ngok's Rich and Famous Talent Management, and is determined to venture into the movie industry. Among the fa dans, Fala Chen who also emerged from MCI pageant became the successor for Michelle's electrifying skills. Recently she first applied her skills on Bosco Wong and Moses Chan, and similarly due to her ceaseless rumors was labeled "Second Flirt". Perhaps it was due to their same experience, Michelle is very sympathetic towards Fala, she said: "I did notice her (Fala Chen), because we both came back to Hong Kong from overseas, she is a beautiful girl and has good conditions, her future is bright."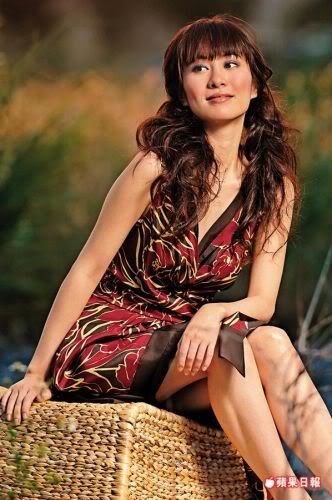 Pic: Michelle Ye is always tangled in rumors, she bothers not towards her rumors.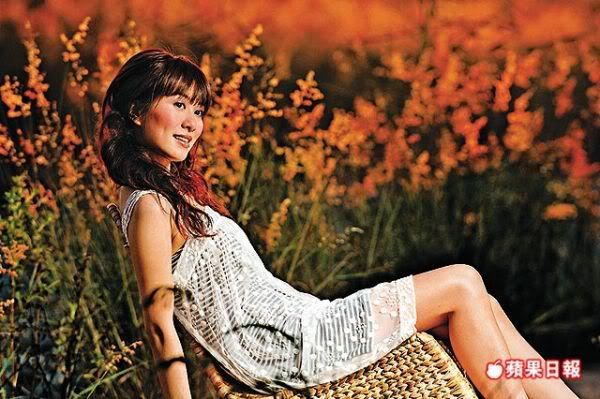 Pic: Michelle thinks her selling point to stand firm in the entertainment industry is her effort put into acting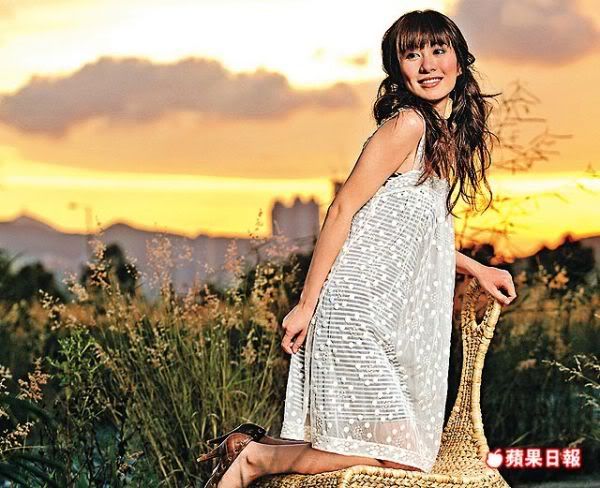 Pic: Michelle who has just finished filming seemed to have lost some weight, perhaps due to pressure from her career progress in Mainland.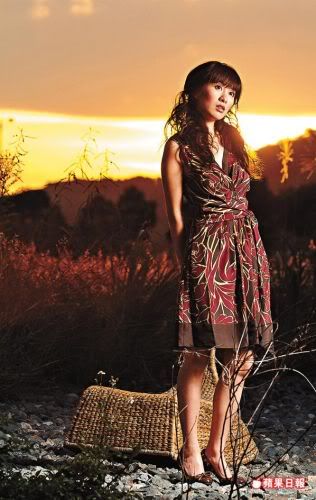 Pic: Although she has ceaseless rumors, she claims her love relationship is still on the way, she does not mind being a career oriented woman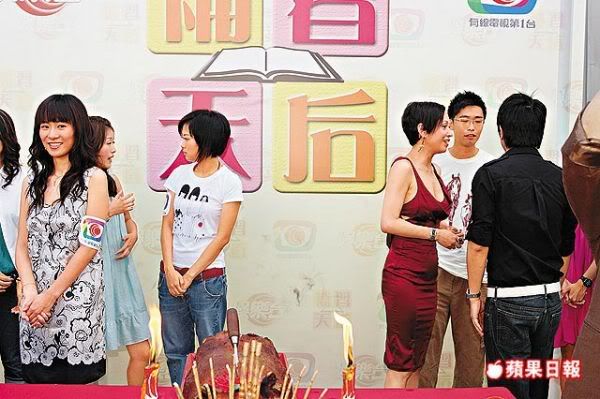 The filming of 'Tutor Queen' began earlier on, Candice Yu and other casts are chatting, with only Michelle Ye standing aside like a loner.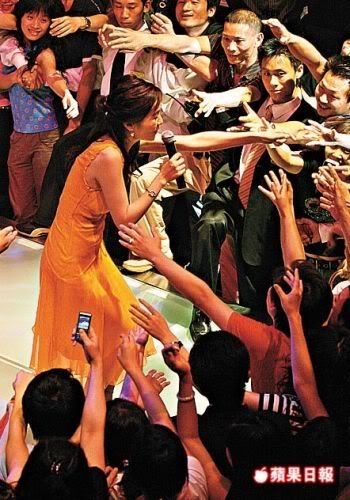 Pic: Michelle Ye makes a living by having shows in Mainland in the past year.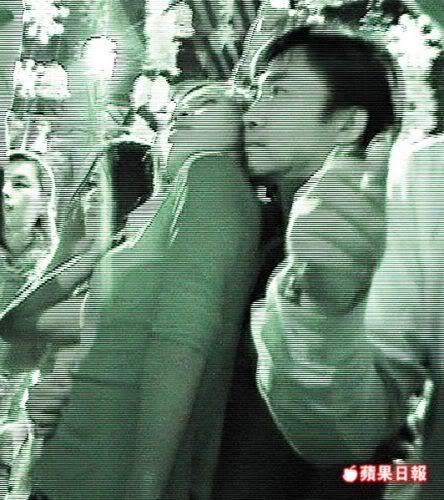 Pic: Although she was shot to be dancing intimately with 'Shell King' Chan Kwok Keung in a pub in mainland, Michelle insisted she does not recognize him
Pic: Michelle accompanied her God Father in many events last year, she expressed that they still go out for meals together sometimes.