08 Aug 2007 - Peter Lam's 50th birthday full of shining stars
Source: Ming Pao 08 August 2007
Miriam Yeung attends in housewife attire
Peter Lam's 50th birthday full of shining stars
Media Asia Entertainment Group Ltd's boss Peter Lam had his 50th birthday last night.The night before, he held a birthday party at Central's Ritz-Carlton Hotel.The companies' celebrities including Shu Qi, Miriam Yeung, Denise Ho, Janice Wei Lan, Andy Hui, Michelle Ye, Johnnie To, Andrew Lau, etc were present to give their wishes, all except first sister Sammi Cheng gave face to attend the event.
Only missing first sister Sammi
The female celebrities who were present to give their wishes for Peter Lam's birthday each dressed very uniquely.The one who caught attention most was the refreshing look of Michelle Ye.Dressing adorably looking just like Rainie Yang, her hairstyle was combed with fringe and tied into two, she was nearly not recognized!Also there, with her fluffy hairstyle and gray contact lense, Shu Qi drank till her face was red, as well as Miriam Yeung who wore her loose perspective outfit with a bit of housewife feel.
Director competed for microphone to sing old songs
Besides cutting the cake, the celebrities of the company also filmed a short video clip as their birthday wishes for their boss Peter Lam, it was really a pleasant surprise.Miriam Yeung and Andy Hui duet a song 'Fo Yit Dung Gam La La La', raising the mood of the atmosphere.The two directors Johnnie To and Andrew Lau were infected and competed for the microphone to sing old classic songs such as 'Yesterday', everyone had much fun until 11pm.
When birthday person Peter Lam and his daughter were leaving, the reporters requested for a photo of them together, perhaps he misheard and gave quite a respond saying, " This is my daughter!"When asked what his birthday wish was, he said: "You guys being happier!"
Johnnie To was a little drunk when leaving and needed someone's assistance.When asked if he had a lot to drink, he said he loved drinking most, he is most happy when there is alcohol to drink.Shu Qi left last, her face was red from drinking, and only smiled without answering reporters' questions.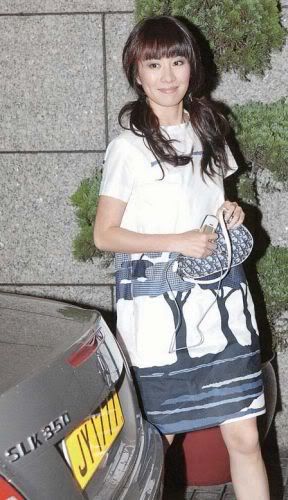 Pic: Michelle Ye's hair tied into two, becoming adorable icon, Rainie Yang
--------------------------------------------------------------------------------
Source: Sun Paper
08 August 2007
Self praise to strive for Olympics host
Erica Yuen scorns Michelle Ye for struggling to outshine
Erica Yuen who has always been direct with her words, when attending 'Olympic Game Sow' as an invited guest continued to stir troubles everywhere.She first indirectly scorns previous Olympic host Michelle Ye for struggling to outshine, and then directly claimed Bennett Pang (Pang Gin Sang) for being overage, how daring!
Bennett Pang, Cecelia Yip, Erica Yuen , etc were the guest of 'Olympic Game Show' the night before.When Erica Yuen mentioned the Olympics host, she was enthusiastic: "I really hope to be the Olympic host, this is one of the largest event of TVB.(What's talents do you have?) I have hosting experience, my pu tong hua (Mandarin) is OK, and I'm also a black belt in Taekwando.(Are you striving to host because Michelle became popular in the last one?) We should not become popular for these kind of stuff! We should just accomplish the responsibilities of a host. I'm a new face, my 'survival' skills are OK, I can handle spontaneous incidents!" As for Michelle Ye who was indirectly scorned, she has yet made any response when this article is published.
Complains Bennett Pang for being too old
During the shooting of the show, Erica Yuen once again demonstrated her 'vocal ability' before her senior colleague Bennett Pang.When Bennett laughingly said the grandmother should not be allowed to jump from a horse, Natalis Chan (Bak Cheung) immediately pointed out his bias towards aged people when Erica yuen directly scorns him: "No one will be bias towards themselves!"Bennett was annoyed and retorted: "You chose the wrong partner for me!She keeps picking me!"Meanwhile, Cecelia Yip expressed that as a citizen of China, she will definitely support Beijing Olympics 2008.Although she will only support from her own home, she will definitely buy a national flag to be hung outside as a sign of support.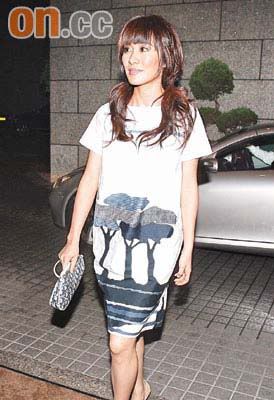 Pic: Michelle Ye dressed up to attend Peter Lam's (Lam Kin Ngok) birthday party