17 Jul 2007 - Michelle merely smiles at her 'loner' rumor
Source: Cheng Pao
Michelle merely smiles at her 'loner' rumor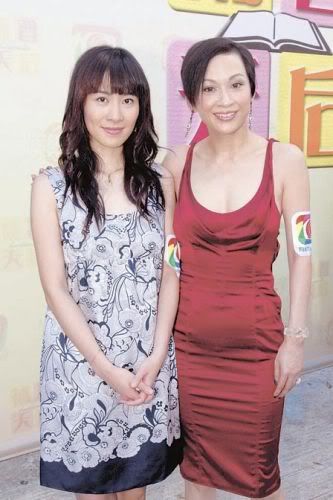 Michelle denies being isolated by others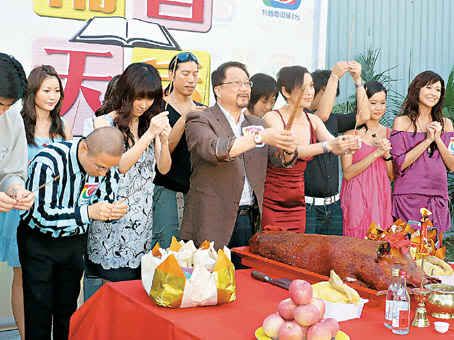 Tsui Siu Ming sincerely prays for smooth work for 'Tuition' series
While filming, Michelle Ye is usually noticed to have chats with other casts, however recently, it is more often than not that she is observed to sit alone at a corner, and thus is labeled a 'loner'. Yesterday, at the opening ceremony at Yuen Long, Yu On-on, Spencer Leung and Ng Tin Yu were chatting together while Michelle was walking around and ignored by others after the praying ceremony. Thus, she could only walked towards Monie Dong and i-cable staffs to have a chat.
Michelle could only smile to hide her awkwardness to her rumored as a 'loner': "There's no such matter, I will communicate with them to build up the emotion for feeling, while resting we will just chat, everything is very smooth! I feel that this report is unreliable, reporters are simply writing, I have good relationship with other casts, these can't be explained by just one or two photos, least to prove any truth or facts." Michelle claimed that she was most familiar with Cheung Yiu Yeung. As the weather is hot these days, she will usually bring a cooling neck band to work, many of the casts asked her where she bought it. Yu On-on who used her personal attire worth over ten thousand dollars, when asked if she ignored Michelle Ye, she immediately denied: "No such thing, we haven't even have scenes together, how can that happen?" Ng Tin Yu expressed that she is not worried to have rumors when filming with Michelle. In fact she had participated MCI together with Michelle seven years ago, both of them shared chats and laughter. She also said Michelle is a very cheerful person, and does not believe that Michelle is a loner. Cheung Yiu Yeung who has intimate scenes with Michelle, when asked about the 'loner' matter, he exclaimed: "What?! Michelle a loner?" He immediately explained, "She is very committed in filming, she might be reading her dialogues for the next scene. I don't feel that she is a loner at all! I do chat with her."
Spencer Leung and Monie Dong also carefully answered when asked regarding the same matter. Monie Dong said ever since they started filming, Michelle is very caring towards her, she will also give her tips. Spencer said: "We will greet each other both before and after work. (Is she a loner?) There's too many cast, I didn't notice much!" At the moment,, the staff came over to request Spencer and Monie to get ready for the prayer, Spencer felt relieved for the 'rescue', and couldn't suppress his smile: "Thank God! Thank God!"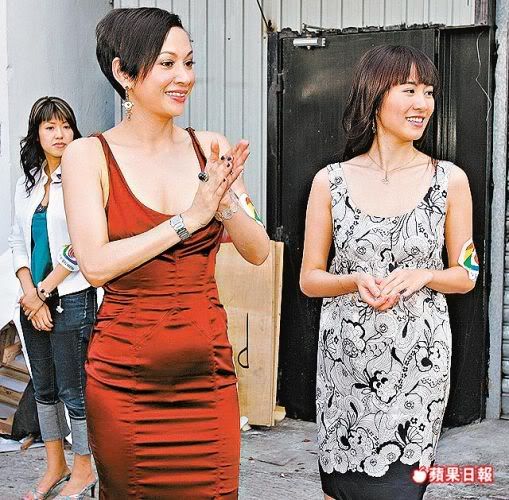 --------------------------------------------------------------------------------
Source: Ta Kung Pao
Michelle Ye becomes a loner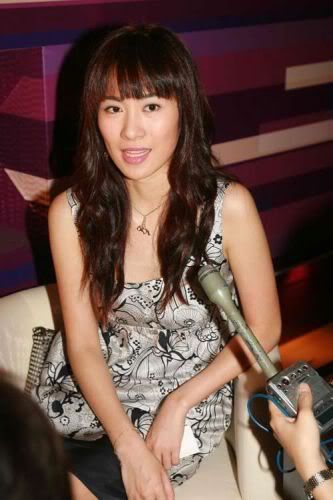 Michelle Ye explains her 'isolation'
Yesterday, i-cable's first series 'Tuition Queen' held it's opening ceremony at Yuen Long. The cast of this series includes rumor queen Michelle Ye, Yu On-on, Spencer Leung, Monie Dong, Cheung Yiu Yeung and Ng Tin Yu. It was probably due to fear of rumors that Michelle Ye was isolated during the ceremony. Michelle stood by the side chatting with the staffs while Yu On-on, Monie Dong and Spencer Leung were chatting away happily. Yu On-on also successfully got full attention due to her branded attire.
Later, Michelle denied it when was asked to comment on her isolation. She expressed that they have just started work, and even though she has yet collaborated with others before,, but everyone communicated well, they do have chats together. She also insisted that her relationship with others is normal and won't be affected by just one or two misleading photos. For example when she bought a cooling neck band from US, everyone who was interested had no problems asking where she bought it.
Yu On-on wore a blazing red low chest cut Gucci attire to the ceremony yesterday. She expressed filming this series has led her to use her over ten thousand dollar personal attire. She also said that i-cable did provide her with attire fees, but she felt more comfortable in her own dress. However, she will not be using her own jewelry as she fear losing it while changing costumes. Towards the matter where Michelle was rumored to be a loner, On-on expressed that she did not ignore Michelle, they will both chat whenever there is a chance.
She has most scenes together with Eric Kot, and also praised that Eric was in fact a very caring person. As for her who has not filmed bed scene for more than ten years, this time around, she will be filming it with Eric.
Cheung Yiu Yeung and Michelle Ye filmed an intimate scene by a fire on the beach recently, but it was actually quite hot at the moment. When asked about Michelle being a loner, Cheung said she does not feel so, in fact he felt Michelle is a very fun person. Spencer Leung and Monie Dong also have bed scene in the series. Monie Dong borrows semen from Spencer to have her own child. Both of them will be filming with plastic bags over their head, and they will choose to print the face of someone they adore on the bag. When reporters suggested printing Michelle's face, both of them laughed. Spencer said: "Don't say that I'm fussy, its not too creative, we should print someone who's not in this series." When discussed about Michelle being a loner, Monie immediately expressed that Michelle is very caring towards her. Spencer said that they will always greet each other when at work.
Ng Tin Yu and Michelle Ye has ever participated in MCI together about 7 to 8 years back. Ng Tin Yu who plays Michelle's junior this time feels that Michelle is a very cheerful and optimistic girl, they have lots to chat about.