14 Jun 2007 - Group of celebrities attends officiating ceremony of i-cable's First Channel
Source: Apple Daily
14th June 2007
Yu On-on demonstrates power to wish i-cable
41 years old Ellen Chen supports 10 dollar pay TVEllen Chen who is 41 this year wore an eighty thousand HKD YSL bareback evening gown last night to attend i-cable's first channel (also known as 10 dollar pay TV) officiating ceremony with her revealing breast.  She beat the rest of the female celebrities including Eileen Tung and Yu On-on.  Ellen Chen claimed her sexy appearance was to respect the function as well as fulfilling the demand of reporters.
Last night, Ellen Chen, Yu On-on, Zhang Qian, Show Luo (Xiao Zhu), Xu Xi Yuan (Da S), Michelle Ye, Eileen Tung, Natalie Wu (Ng Man Yan / Wu Wen Xin), Richie Ren, etc all attended the officiating ceremony of i-cable's first channel at Central's Four Seasons Hotel.  The revealing appearance of the 41 years old Ellen Chen is said to outshine the entire group of celebrities at the function. 
Earlier on, Ellen Chen attended the press conference of 'Tuition Queen' as one of the main cast, and was said to be conventional thus causing her to lose her temper.  Yesterday, she was obviously well prepared, wearing the YSL purple bareback evening gown worth HKD 80 thousand, which also happens to be the only available stock in Hong Kong.  Revealing her back is no doubt very appealing, but observing from near distance, the design of the upper half of the dress allowed her to reveal her nipple.
The most important thing is to compete with yourself
When Ellen Chen was asked of her efforts, is she afraid to attract other troubles?  She said: "Being beautiful is a kind of respect for the function, for you to publish.  I'm keeping fit recently, I employed a personal instructor to do gym."  When the reporters pointed out that she was extremely sexy going onstage with bare breast (without bra), she anxiously asked: "Is it?  What did you see?  I'm just fulfilling your demands, what if you say that I'm not sexy again?  The most important thing is to compete with ourselves, not competing with others."
The other mature lady, Yu On-on did not fall back either, with a low cut dress, he revealed her perfect bodyline entirely, while Eileen Tung's flaring red evening gown revealed her T-back.  When the group of 'Tuition Queen' casts went onstage to introduce their new series, Michelle Ye was asked if she was satisfied with her pay, she seems to be reminiscing her old home TVB, and express with TVB's slogan: "I will put in my best effort, and act my best for this series."
Da S and Zai Zai's relationship is perfect
Da S and Xiao Zhu especially came to Hong Kong just to attend this event, and quite a crowd of fans were welcoming them at the airport.  When Da S was asked of the rumor of her splitting up with Vic Zhou, she sweetly replied: "Our relationship is not bad."  She also presented Zai Zai with a computer on his birthday (9th).  Besides, Aaron Kwok and Nicholas Tse also recorded their wishes for i-cable in Cantonese.  The executive of i-cable, Tsui Siu Ming said onstage: "We (i-cable) are called First Channel not because we fight to be the first in this industry, but to breakthrough the new definition of being first."
FYI: Pay $810 to watching 10 dollar pay TV
The programs aired on i-cable's First Channel ($10 pay TV) can be watched on the common channel of i-cable TV, thus initial customers with i-cable accounts needn't reapply, as i-cable's A channel will stop airing, the A channel accounts will automatically become $10 pay channel, they needn't pay more.  Meanwhile, for those non-i-cable accounts who can't watch A channel, they need to pay $300 installation fees as well as $500 instrument fees in addition to the $10 subscribing fee.
What's the catch? :  Pay $10 to watch popular series
Paying mere $10 will enable you to watch i-cable's First Channel for a lifetime, the programs aired includes popular Taiwan drama 'Corner Love' starring Show Luo and Xu Xi Yuan (Da S), a movie every night from Monday to Saturday, Follow So's (Sou Si Wong /  蘇施黃) 'Yat Lap Jung Jan Yan Sou', Maria Cordero's 'Fei Ma Si Fong Choi'. Master So's (So Man Fung) 'Fung Sang Seui Hei Jing Duk Baan Min Seung Pin', news and many more.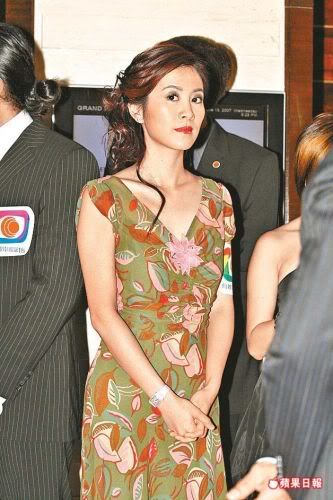 Yesterday, Michelle Ye set aside her sexy norm, slight make up and conventional dressing.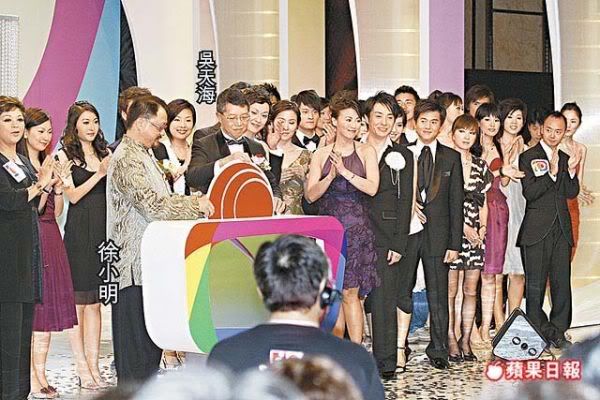 ____________________________________________________________________________
Sun Paper
14th June 2007
Ellen Chen outshines Eileen Tung
The first channel of i-cable TV station held the officiating ceremony at the Four Seasons Hotel last night.  A large number of female celebrities attended the function with sexy outfit.  Ellen Chen appeared in a purple bare back gown, and successfully grabbed the attention from Eileen Tung who is already a mother.
Ellen Chen was in her YSL evening gown without nipple stickers, thus causing her left breast to be quite revealing, and successfully grabbed the attention from all the female celebrities present!  When asked why she was so sexily dressed, Ellen Chen laughingly said: "I respect the function!  So that you don't have a reason to say that I'm not sexy again!  This is the only stock available in Hong Kong! (about her dress)"
Eileen Tung who is now a mother and Yu On-on did not want to fall behind.  They appeared in a red spaghetti strap dress and Dolce & Gabbana evening gown respectively.  Eileen Tung even personally admitted that this is her first time wearing T-back underpants!  As for Michelle Ye who is filming 'Tuition Queen' for i-cable, she claimed onstage, "I will put in my best effort, and act the best in this film" obviously borrowing TVB's slogan to please i-cable, and also successfully grabbed the attention from the camera!
Da S denied that her relationship with Zai Zai is facing any changes.  To the rumors that they have relationship problem, she was extremely happy last night: "My relationship with Zai Zai?  Not bad! (But rumors that you're breaking up?)  I don't know!"  Da S revealed that she presented Zai Zai with a computer as his birthday present.  Show Luo (Xiao Zhu) strongly insisted that the two of them did not break up (Zai Zai & Da S), while claiming that he personally dislikes dating.  In addition, the committee also played the wishes from many stars, where Aaron Kwok and Nicholas Tse unexpectedly spoke their wishes in Cantonese.