31 May 2007 - i-cable's 'Tuition Queen' to challenge TVB
Yu On-on outshines, Ellen Chen loses temper
i-cable begin shooting new series 'Bou Jaap Tin Hau' and found five stars to film it, including Yu On-on, Ellen Chen, Monie Dong, Ng Tin Yu and Michelle Ye.  During the press conference, Yu On-on's low cut and fashionable dressing caused Ellen Chen who revealed her shoulders and waist to lose attention. Perhaps due to losing attention, Ellen Chen when asked why she was dressed so conservatively, she immediately lost her temper and blamed that something is wrong with the reporters standard, she felt that she was sexy enough.
Yu On-on dressed with a low cut attire yesterday, further outshining the group of stunningly dressed artists.  When Ellen Chen who only revealed her shoulders and waist was asked of why she had dressed so conservatively, she immediately lost her temper and questioned the reporters in return: "Do I count as conservative like this?  Must I reveal my chest? (yes!) I feel that everyone have their own style, I feel that I'm sexy enough." She also said that she did not come to compete sexiness or beauty, and later said: "You lots always try to stir up trouble, we will not have arguments because of this."
Is she afraid that having many female leads will cause many rumors? Ellen Chen feels that she has self-discipline.  As for the matter that Michelle Ye causes rumors, she flares up again saying: "Always say it was rumored by others, the others are you lots, I won't bother your news, I feel that she is very good."  Yu On-on also expressed she is not afraid of rumors, she has never bothered and will only do her part well.  She said: "If we get along well, we'll chat more, otherwise, we'll simply chat less."  Michelle Ye also expressed that she will concentrate to do her own job, and won't be afraid to cause rumors.  There were allegations that Kenix Kwok had intended to film this series originally but gave up to avoid her.  Michelle said: "Is that so?  I didn't know.  We've collaborated before in 'Reaching Out', we've always played mahjong together, rumors can't be the truth."
Michelle Ye did not offend TVB
Although Michelle Ye is filming for i-cable, she was quite conserved yesterday, and did not bad-mouth TVB.  But won't she offend TVB by filming for i-cable?  Michelle express she will respect all producers, and emphasized that she is not betraying anyone, only respecting contracts and scripts.  Besides, there was rumor that she had a performance earlier on with a very low price, she merely said: "No one actually knows my pay, I won't be unhappy over something that is not a fact."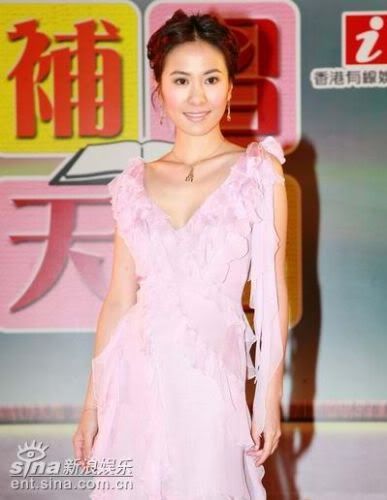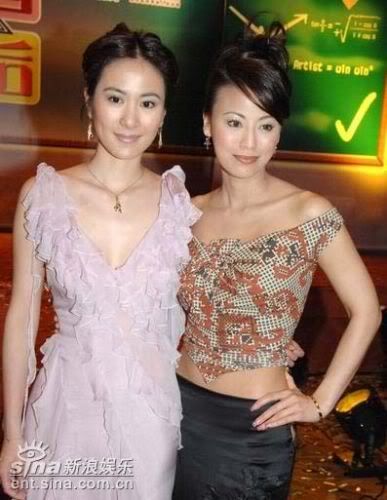 Picture: Michelle Ye & Ellen Chen
Source: Ta Kung Pao
____________________________________________________________________________
Spencer Leung sends condolences to TVB
i-cable series 'Bou Jaap Tin Hau' had a press conference yesterday, Spencer Leung among the cast, although had came out from TVB, but instead repetitively challenged his old company, and claims to 'send condolences' to TVB.
i-cable had their press conference yesterday to announce their series 'Tuition Queen' casts, including Michelle Ye, Ellen Chan, Yu On-on, Monie Dong, Eric Kot and Spencer Leung etc.  Although the series has yet began filming, the group of female leads  first competed their sexiness in the conference, with Yu On-on grabbing the most attention as the most sexily dressed.  When asked if Ellen Chen felt that her conservative dressing had cost her to lose media attention, she flared up saying: "Is this called conservative? Don't tell me only revealing chest is called sexy? I don't compete for sexiness, I'm quite mature!"  She accused the reporters trying to stir up troubles.
Ellen Chen emotionally unstable
Later, Ellen Chen was asked if she was afraid to have rumors while filming with 'News Queen' Michelle Ye, she again became emotional and blamed the media: " People says she has lots of rumors because of you, media reporters nowadays have degraded.  Anyway, I will always preserve my own friendship." Because Ellen Chen was emotional and caught more attention than Michelle Ye, Michelle did not really bother to respond to the matter where Kenix Kwok was unwilling to collaborate with her and rejected the series: "We all got different roles, I know her quite well, we've even played mahjong together."
The whole press conference yesterday was full of 'war indication', besides Ellen Chen losing her temper towards the reporters, the group of artist also claimed onstage that they want to challenge TVB.  Spencer Leung even expressed that he wants to 'send condelences' to TVB, stirring quite a scene, and he later explained: "This is my own aim, I only wanted to remind them (TVB) that it is time to get up for a battle."  i-cable executive, Tsui Siu Ming said that he was unaware of Spencer Leung's claim.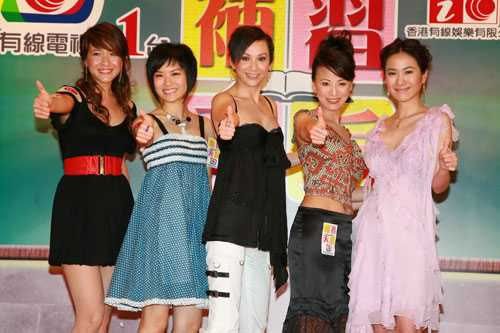 Pic: From left: Ng Tin Yu, Monie Dong, Yu On-On, Ellen Chen and Michelle Ye promoting the new series together, with Yu On-on low cut attire as the most attention grabbing.
Source: East Daily
_____________________________________________________________________________
'Tuition Queen' unites against TVB, Spencer Leung professes to 'send condolences'
i-cable will begin shooting their long series of 'Bou Jaap Tin Hao' (literally translated as 'Tuition Queen'), and invited Yu On-on, Michelle Ye, Ellen Chen, Eric Kot, Cheung Yiu Yeung, Monie Dong and Spencer Leung to film it.  Yesterday, during their press conference, the group of artists united against TVB.  Besides commenting that TVB is outdated, Spencer Leung also openly professes to 'send condolences' to TVB.
At the beginning of the press conference, the group of artist made their appearance through a stage catwalk, and when the organizers played the Miss HK music, the host, Luk Hou Ming instead laughed, saying: "It's been used for over twenty years, so outdated, change it."  Later, the artists appeared onstage in group.  Ellen Chen, Michelle Ye, Yu On-on and Monie Dong came out together with eyedrops as their props.  Ellen Chen laughed saying that viewing rate will be too good that someone will have red eyes, Yu On-on and Monie Dong asked their opposition to clean their eyes to watch their good film, while Michelle Ye daren't make any comments onstage.  Spencer Leung, Eric Kot and Cheung Yiu Yeung appeared with red alarm clocks, Spencer openly said: "I want to send my condolences to T… No, it should be the tuition centres."
Eric Kot further commented: "This clock is to remind people to begin 'war', and wake up from their slumber, this is an alarm."  Later when Tsui Siu Ming was asked of his opinion of the artists declaring war with TVB, he explained that it was just for a moment of fun, and they were merely joking around.  When discussed of the matter of 'sending condelences' to TVB, Tsui Siu Ming expressed: "I'm not sure, the meaning should be declaring war, to stay alert and no longer be asleep." Reporters pointed that Spencer Leung took his personal matters onstage, Tsui Siu Ming expressed that he will enquire Spencer Leung regarding this matter.
Source: Man Wui Bou
_____________________________________________________________________________
Ellen Chen flares up about sexiness measure
Michelle Ye, Ellen Chen and Yu On-on etc were present at i-cable's 'Bou Jaap Tin Hau' press conference, when commented that she was quite conservative compared to toher artists, Ellen Chen had a bid respond saying: "Is this even called conservative? Don't tell me only revealing chest can be called sexy? I won't compete for sexiness, I'm very mature!"  She got angrier as she spoke, and blamed reporters for intentionally stirring up troubles.  When mentioned about Michelle Ye causing rumors, she flared up again: "I admire her, anyway, I will protect my own girl-friends."  As for the 'News Queen' Michelle Ye, she was extremely low profile, and to the allegations that her many rumors scared away Kenix Kwok, and to the rumor that she attended performance with low prices, she replied with no interest: "I won't reply to what is not a fact." 
On the other hand, i-cable indirectly challenged TVB.  Spencer Leung expressed that he sends condolences to TVB, and later covered up saying to tutition centres instead, but has already stirred up quite a commotion at the scene.  The i-cable executive, Tsui Siu Ming explained that he knows nothing about Spencer's claim.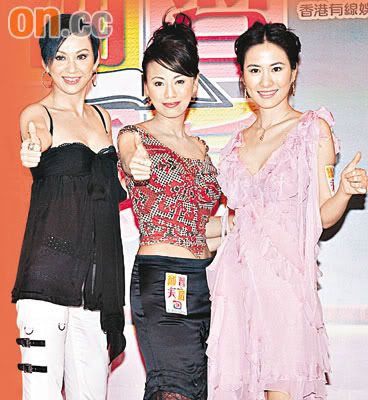 Michelle Ye (from right), Ellen Chen and Yu On-on, present at the event, Ellen Chen flares up for no reason.
Source: Sun Paper

_____________________________________________________________________________
Michelle Ye betrays and counter attack TVB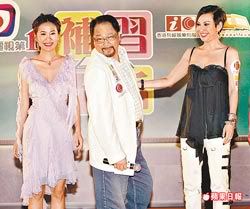 Tsui Siu Ming's flirty catwalk caused Michelle Ye (left) and Yu On-on silent uneasiness
i-cable officially announces their war with TVB in their press conference yesterday.  They announced that they will begin filming their 60-episodes-comedy 'Bou Jaap Tin Hau'.  Their leads, Yu On-on, Michelle Ye and Ellen Chen, besides competing their sexiness, also spoke with hidden meanings against TVB.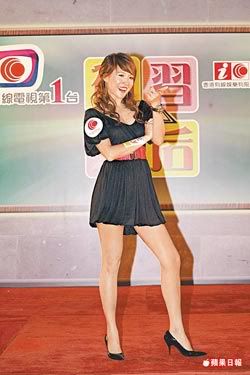 Ng Tin Yu will play the Tuition Queen in the series
The behind scenes plot
During the event yesterday, TVB's Miss HK music was played initially, but it was a mere 5 seconds when the host Luk Hou Ming immediately said: "Its been used for over twenty years, so 'out'!" And another song was immediately played in replacement.  Among the few female leads, Yu On-on caught most attention with her sexy revealing top. 'Bou Jaap Tin Hau' series producer, Zheng Wai Man yesterday expressed that the content of the new series is an original creation, it will reveal all the plots and secrets behind the tuition world, such as the amazingly accurate topic forecast of Royal Tuition Centre.  He said: "I've dug up lots of information, besides harping on that topic forecast matter, we will also touch on the cases where teachers have love relationship with their students."
The group of artist during the press conference, will pick on TVB once in a while, Eric Kot held a big alarm clock when going onstage, Spencer Leung beside him rushed to explain, "This alarm clock is for TVB, no, no, for tuition centres." Eric Kot added: "It is a warning, we will begin war."  Later, he also mentioned several TVB artists had called him, hoping to come over to i-cable for their career.
Source: Apple Daily