19 May 2007 - Cosmetology Boss ends contract with Michelle "Her image is bad, lots of rumors"
Cosmetology Boss ends contract with Michelle "Her image is bad, lots of rumors"
Apple Daily
Michelle Ye who depended on her good whining and excellent figure has always been an item of demand, with the wealthy Zheng Yu Tong recognizing her as his god-daughter, she also conveniently knows 'The Diving Prince' Hung Ngai as well as 'the Shell King' Chan Kwok Kiong.  She was even caught on photo to be with dancing intimately with Chan Kwok Kiong in a night club in Beijing.  She, who has excellent relationship with men, was surrounded by endless rumors when filming ATV's Central Affairs 2, getting all the attention.  However, she is no longer in her peak times, and now focuses to progress her career in Mainland.  Earlier on, she appeared in a night club in Mainland for a performance, and was even harassed by the audience. 
Candy Law takes the opportunity to replace position
When Michelle was in her peak times, she had countless of contracts as spokesperson.  She was once the spokesperson for US Bio cosmetology equipments.  Yesterday during the promotion event, Candy Law and Albert Yeung's daughter, Cindy Yeung, were both present.  The executive of the said product, Yun Leung Zan initiatively told Fung Yan Ciu that they had ended their contract with Michelle Ye earlier on, Mrs. Tam said: "Her image is not good!  When I signed her as spokesperson, a lot of people have told me that her image is not good, she has a lot of rumors when filming.  I only signed her for a year, and will not renew her contract."
Mrs. Tam can always have Candy Law as the new spokesperson; Candy who was just by the side immediately took her position, saying: "If she's looking for me, then I'm too happy for words."  She immediately claimed that she has a clean background, and also said: "I'm already married, even if I'm free, I'm only tending to my family.  I feel that if an artist does not have a good image, it definitely affects that product."
On the other hand, Candy Law brought along her youngest son to attend the activity at Central.  Her son attracted quite some attention, when asked to kiss his mother, he immediately kissed her, and even said, "I love Ma Ma".  Candy Law said: "This son has the celebrity cell, maybe because both his brothers kept photographing him, he's not afraid of cameras, he might enter the entertainment industry in future."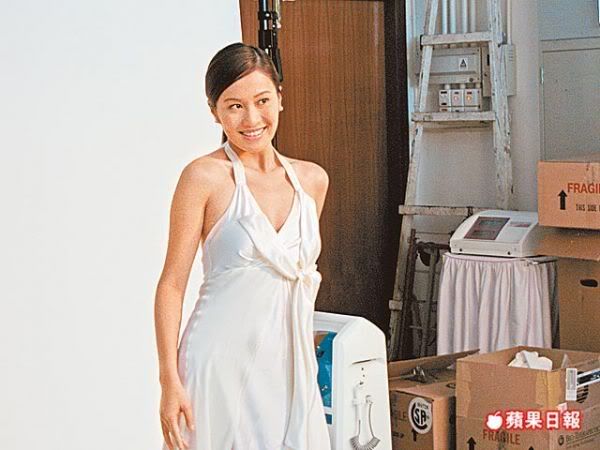 Michelle Ye was once US Bio spokesperson, but her bad image caused her contract to not be renewed.
Candy Law (third from left) promotes her clean record to cosmetology boss, hoping to be the spokesperson
Michelle who progressed her career to Mainland performed at Fo Shan earlier on and was harrased.