17 May 2007 - "Rumor Queen" Michelle Ye joins i-cable's 100 episodes series, Kenix Kwok immediately retreats
Sina Entertainment
17th May 2007,08:15:19
"Rumor Queen" Michelle Ye joins i-cable's 100 episodes series, Kenix Kwok immediately retreats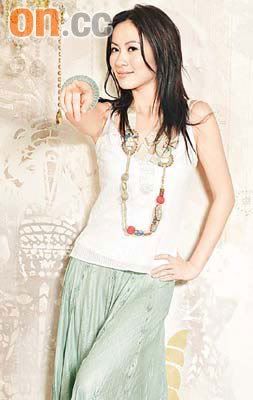 Kenix rejects i-cable's heavily invested series to avoid rumor fa-dan Michelle Ye
i-cable will soon begin the filming of a hundred episode long series.  Initially, they had already have Kenix Kwok in hand as their leading female as the strategy to compete with other stations.  However, Kenix who has already given her verbal agreement suddenly rejected the role.  It was reported that it was due to Michelle Ye who has returned from Mainland, causing her to retreat upon hearing Michelle, to avoid the rumor fa-dan.
i-cable will be shooting this 100 episodes long series of Tuition King in June.  It is reported that the confirmed cast consists of Eric Kot, Yu On On, Leung Si Ho, and Roy Cheung, etc.  As for Kenix Kwok who was promised extensive pay and has given her verbal agreement, but instead rejected the job the day before last.  It was reported that Kenix was very interested in this script, and it was too a heavily invested series, and n addition to i-cable's sincerity, she has agreed to act.  However, Michelle Ye, the rumor fa dan sudden appearance not only caused Kenix to leave, but also resulted other casts worrying if they will be surrounded by rumors.  In the past Michelle Ye was rumored to not get along with Pinky Cheung, Kenneth Chan, Raymond Wong etc, and Kenix Kwok was known to rather reject the job than to be surrounded by rumors.
Personal reason to reject job
i-cable won Michelle but lost Kenix.  In order to overcome this lost of rating guarantee strategy, they immediately sent another script to Kenix in hopes to retain her.  Yesterday when asking for her confirmation, she denied with personal reason: "I have never agreed to shoot this series, even though i-cable did give me the script.  Frankie needs to film a Mainland series thus he has rejected it, I reject it because of personal reason, but they gave me another script instead.  (It is said because of Michelle's participation, is that why you reject?)  I have worked with her before, I consider scripts when filming, not who my co stars are." Michelle's manager admitted that Michelle has accepted this series: "Let i-cable have the say, they will be having a press conference soon enough. (it was said that Kenix retreated because of Michelle Ye?) I'm not sure, it's best to ask i-cable."
___________________________________________________________________________________
"Rumor Queen" Michelle Ye joins i-cable 100 episode series, scares away Kenix Kwok
i-cable is preparing for a hundred episode long series recently, the story revolves about Tuition King (Bou Zaap Tin Wong), and invited Eric Kot, Yu On On and Leung Si Ho to participate.  The female lead was planned to be Kenix Kwok's as she has verbally agreed, but recently she suddenly rejected the role.  It was known to be concerning Michelle's participation.  It was rumored that she was afraid that Michelle will have lots of rumors and thus rejected the collaboration.
Kenix Kwok, in a telephone interview yesterday, admitted that she has rejected the job: "They gave me the script to read, but I have never agreed to film it, Frankie also rejected it, I am not participating because of personal reasons.  Michelle and I have worked together in 'Reaching Out', to act or not depends mainly on the script, not the who my co-stars are."  As for Michelle Ye's manager, when asked for confirmation, she replied in a cool manner: "i-cable will be having a press conference at the end of this month, let them have the say! (Kenix Kwok retreated because of Michelle Ye?) I don't know about that!"