01 Mar 2007 - Louis Koo, Michelle Ye, Miriam Yeung, Attend Media Asia's Star-Studded Banquet
Credits: Jayne Stars
Source: Sin Hua Net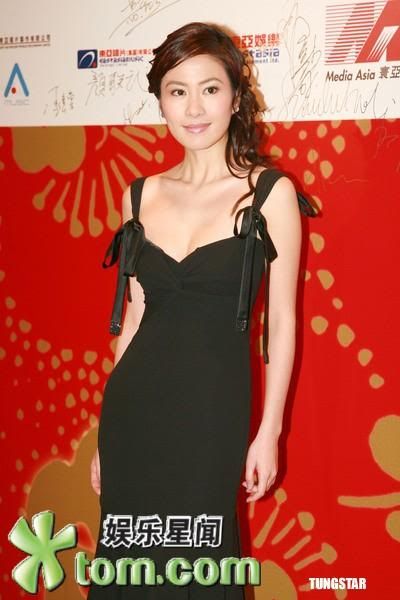 One of Hong Kong's most powerful media moguls, Lin Chienyueh, founder of eSun Holdings Ltd. held a 43 table Lunar New Year banquet last night. Artists affiliated with eSun and its subsidiary company, Media Asia (one of the top film production and distribution companies in Hong Kong & China, responsible for high-profile movies such as "The Banquet," "Confessions of Pain" etc.) attended.
Louis Koo Tin Lok, Miriam Yeung Chin Wah, Leon Lai Ming, Edison Chen Koon Hei, Johnnie To Kei Fung, Gordon Lam Ka Tung, Richie Ren, Michelle Ye Suen, Simon Yam Tat Wah, Andy Hui Chi On, Daniel Wu Yiu Cho, Denise Ho, Anthony Wong Chau Sung were present, but Sammi Cheng Sau Man was noticeably absent.
Louis Koo Gets Drunk & Acts Out of Character
The atmosphere was quite lively and many artists such as Louis had too many drinks, acting out of norm. After the banquet started shortly, Louis' cheeks had a red flush due to drinking and he went around saying hello to everyone. At one point, he even stepped up on stage and told the MC to shut up!
Louis was invited to go onstage to help select the raffle winner. The MC said, "Please pick me!" The alcohol imbibed Louis replied, "You shut up!" ¡¸ÄãÊÕƤÀ²£¡¡¹Then he shouted, "Hey where did
Viriginia Lok Yi Ling go?"
To increase the audience's spirits, Louis pretended to fix the raffle results, promising to select the winner based on the loudest shouts. Louis' steps were unsteady and his manager was unable to handle him. Finally, Louis required the assistance of onsite ushers to support him when he left.