08 Feb 2007 - Rumor queen Michelle Ye regarded troublesome
Rumor queen Michelle Ye regarded troublesome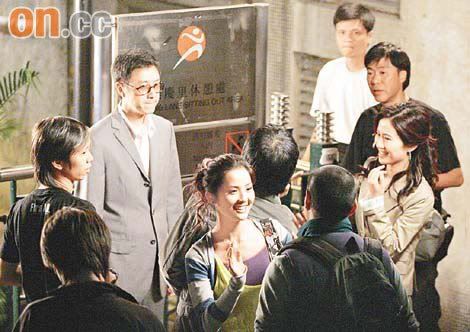 Michelle who has lots of rumors, once again stirred up rumors yesterday while filming with Charlene Choi at Central. When a huge crowd of media went forward for an interview, the crew requested them to take photos of Michelle Ye at a further distance, claiming her to be troublesome!
Michelle who has had unceasing rumors since her first debut is crowned the 'Rumor Queen' title, and has been stirring rumors again after her return from Mainland works. The new movie 'King of Movie Kings' (hei wong zi wong) last night filmed some street scenes at Central's Sek Pan Street. The leads, Charlene Choi and Chim Sui Man, Chan Fai Hung and guest starring Michelle Ye were filming a scene where the four meet on the street.
At the scene, Ah Sa and Chan Fai Hung were chatting and laughing with the others when they weren't filming, and were quite cooperative, constantly allowing reporters to interview and take photos of them. Meanwhile, Michelle Ye was seen to chat very little with other actors, and only kept to herself. When the reporters took photos, some crews even expressed that it's okay to take photographs of other actors, but if taking photos of Michelle, they requested them to go further away, straightforwardly saying: "If you want to take photos of her, then go further away! Because Miss Michelle Ye is really troublesome!"
Pretending to not see reporters
Near to three in the morning, Michelle Ye and Chan Fai Hung finished filming and were about to leave when reporters went forward to greet Michelle and requested for and interview when she became 'deaf' and continued to walk forward, and was totally unfriendly. In the companion of her assistance, she quickly left in a car. As for the first timer male lead, Chim Sui Man, he gained a lot of support in the film. He expressed that he won't be pressured just because it is his first time being the male lead: "Even if I have only a 5 minutes scene, I will also make preparation!"
Michelle often stones her face while filming, not into other actors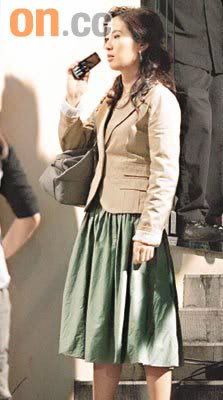 _____________________________________________________________________________
Source: Apple Daily
Laughing non-stop in Mainland
Before this, Michelle Ye has had rumor spread with Shell King Chan Kwok Kiong, and was assumed to become low profile after losing importance with Mr. Chan. She turned to Mainland and has not been appearing in Hong Kong for quite some time. The night before last when reporters saw her, her expression was unhappy and did not want to do any interview, and even requested a female crew to help her reject: "Please don't take anymore photos! You know how troubled Miss Ye is!"
At the scene, Michelle Ye was seen to not only be unhappy about reporters but was also cool towards other actors. When reporters requested for an interview, she acted deaf and walked even further, totally ignoring everyone else.
Michelle who signed to Rich and Famous seemed to not be promoted and thus she went to Mainland to film series. According to Sina Entertainment, Michelle was invited to be guest at Hunan TV's variety show. Michelle who presented in the appearance of Dae Jung Gum, performed a dance with
Mainland's artist, Li Yaolin, and laughed nonstop for the entire night.
Source: Singtao Daily
Ah Sa plays a small celebrity role in the "King of Movie Kings", and learnt some acting skills from Chim Sui Man. The scene last night at Sek Pan Street was about the meeting of the two of them (Charlene & Chan Fai Hung) in the entertainment circle. After the three of them had some scenes rehearsal, Michelle Ye who plays Chan Fai Hung's girlfriend arrived, her face showing unpleasant expression upon seeing reporters taking photos. The crews who were initially quite pleasant with the reporters then advised the reporters to leave the set, but reporters ignored the request and continued their interviews when later a staff once again asked them to leave, expressing: "Miss Ye does not like it."
Reporters stayed at the set until about 1 in the morning when the crews were leaving. Reporters saw Michelle Ye leaving and immediately went forward to greet but she pretended to not hear and ignored the reporter. Reporter continued insisting for an interview and she continued ignoring and got on the crew's van to leave.