Source: Sina Entertainment
20th Jun 2009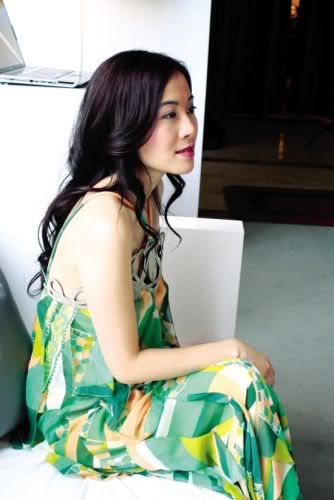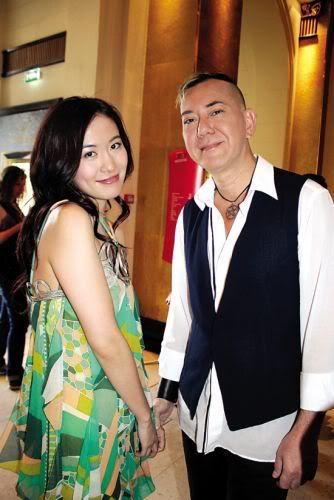 Michelle Ye went to school alone in United States at the age of 13. Despite her independent looks, she actually desires her father's attention most. Outsiders tend to think that she is flirtatious and outgoing, but what she actually loves most is reading 'Zi Zhi Tong Jian' (first chronological general history of China written by Si Ma Guang – 'Comprehensive Mirror for Aid in Government') quietly at home. Michelle also expressed that her character is too strong, it's impossible to marry into the wealthy: "I don't want to live in grievance just for the sake of wealth."
'Central Affairs', she transforms into 'bad woman'
The recent productions, she transforms again into 'Desparate Housewives'
Which, among these, is most similar to her true self?
She has acted as a chaste lady, but she also has acted as a prostitute. She was once regarded as Hong Kong's new generation jade girl, but also became the cover of magazines due to her several rumors.  Michelle Ye, she is a riddle for most – among the many, which is the true her?
In that particular free noon, Michelle Ye accepted an exclusive interview with 'Yangcheng Evening paper'.  She unveils her past:  Going to school alone in United States at the age of 13. Despite her independent looks, she actually desires her father's attention most; she was crowned as Miss Chinese International when she was 19, yet her dream before was actually to become a lawyer; at 25, she gave up her glorious 'fa dan' identity in TVB to pursue her career in the unfamiliar film industry, she looks expert, yet only she herself knows that it's all a pretense; outsiders tend to think that she is flirtatious and outgoing, but what she actually loves most is reading 'Zi Zhi Tong Jian'…   Actually, the 29-year-old Michelle Ye is but a young child who is pretending to be an adult, because to date, she still loves to read 'Crayon Sinchan'.
Working at the age of 13, being a good student to win father's attention
Michelle had an unusual childhood. Her parents divorced when she was 9. She grew up with her father, but her father was busy working so they only met once a month. When she was 13, she went to school alone in United States, and she even was a 'child labor'.  Reminiscing the past, Michelle said, I gained more than I lost.
Reporter= R
Michelle Ye = M
R: I know that you went to school alone in United States when you were only 13…
M: Yes, I lived by myself, and I even worked at that time. This independent kind of life makes me mature faster as compared to my peers.
R: Isn't it illegal to work when you were 13 in United States?
M: Yes, it is, back then, I went to interview at a video rental store, the lady boss was Chinese, she asked me: "Are you already 16?" I lied to her, "I'm a bit more than 15." I pretended to look experienced. I still remember my wage was USD$2.25 per hour initially, but after one or two weeks, the lady boss gave me a raise to USD$2.75 per hour. At that time, I took many series and movie tapes home to watch, I guess this perhaps influenced me to enter the entertainment world.
R: You majored in political science in United States, how did you come to join Miss Chinese International pageant?
M: I studied political science because it was the trend then, as at that time, many people were studying this. Actually, I personally quite like it, because I like to read about history since I was young. Joining the pageant was kind of by chance. It was winter holiday, and I went to a bridal gown rental shop to find some head ornaments for my school's dancing team. The lady boss there knew that I could dance, so she asked me to join the pageant. Never thought I'd win.
R: What do most of your classmates do for a living?
M: Most of them are lawyers. That was my ambition too in the first place. I was quite good in school back then, I was even given a scholarship. Maybe because at that time I thought that it was the only way I could get my father's attention.
R: You never spent much time with your father?
M: Yes, we only meet once in a month. He gave me USD$500 for my monthly living expenses, and if I rank first in my examination, he would give US$200 more.  I worked very hard to be first in high school, because I was hoping that he would come to my graduation ceremony. But he still never didn't.
R: What impact does your growing up environment give you?
M: The impact is big, there are positive and negative ones, but if I were to consider now, the former still surpasses the latter. I became very independent, it strengthen my ability to observe people and things around me as compared to my peers, because no one taught me how things should be done. The negative impact would be I don't really know how to communicate with others, especially with strangers. At many times I might be too straightforward, like when I like or dislike someone, it is very obviously shown, as I won't beat around the bush. But everything always has two different sides, straightforwardness can sometimes make some people uncomfortable, but there are others who think that I'm sincere. I've been learning to care more about others' feelings now, though.
Acting in 'Central Affairs', it was a perplexity to be entangled with negative news
After making fame from being crowned winner in the Miss Chinese International pageant at the age of 19, Michelle Ye joined TVB.  Her innocent and adorable looks were very welcomed by the audience.
She acted in many series, but just as her career was at its peak, she instead chose to leave for the film industry. Many people didn't understand her choice, but Michelle answered it simply: Who doesn't want to star in the big screen?
R: Back then when you're still with TVB, you had a nickname, Jessica Hsuan Junior. I heard that you have a quite good rapport with her?
M: I'm quite happy with this nickname. This proves that my looks are not bad. Jessica and I address one another as sister.
R: You've built a youthful jade girl image, but why did you choose to act as an evil lady in 'Central Affairs'?
M: That was my first piece of work with Media Asia. The company was transforming my image from junior 'fa dan' to senior 'qing yi', it was just natural to breakthrough my past image.  I also personally thought that I can't always act as a youthful innocent girl, sooner or later, I'll have to go this way.
R: But after you acted the role, there were more and more negative news about you out there…
M: That's right. But that series is actually not that unusual, because after that many Hong Kong series were also like that, the roles inside were neither good nor evil. But at that time, there were not many such series. I was quite perplexed by the distortion of the facts that the public had. Fortunately, I had a very good management team, as they always protected me. They didn't even let me read many things reported by the paparazzi. I also was telling myself that the image given by a certain role would fade, most importantly, I can't stop trying things, I can't give myself up. Actually right now, I'm quite grateful to that role, because it helped me discover my adaptability.
R: You were already the leading fa dan of TVB, why did you suddenly change gears to the film industry?
M: It is quite fated. At that time, Media Asia approached me suddenly and gave me this opportunity, and I felt that it was very tempting – to be able to appear on big screen, it should be the dream of every actor.
R: What kind of advantage over other actresses do you think you have? I realize that your Mandarin is exceptionally perfect, although I know that you're from Hangzhou, it still highly amazes me.
(MYR:  This is because Michelle has actually passed the broadcasting examination in China, meaning her Mandarin is not only fluent as any common Mainlander, but also perfect enough to qualify as a broadcaster.)
M: Right, I think speaking good Mandarin is my biggest advantage, many directors told me so. Maybe because my Cantonese is also quite accurate, so everybody thinks that I'm from Hong Kong. Although I'm deeply attached to Hong Kong as I've worked there for so many years, still I came from Hang Zhou! My parents are all there, that's why I think that my home is in Hang Zhou, while Hong Kong is only my workplace.
Entering the film industry, Johnnie To personally demonstrated how to cook
In the recent years, Michelle has starred as the female lead in 3 Hong Kong movies consecutively, collaborating with great directors and experienced actors. But frankly speaking, because they were mainly male-dominated movies, Michelle didn't have much screen time.
R: After you joined the film industry, you've played as a 'wife' in 3 different movies consecutively. Like in the movie 'Lady Cop & Papa Crook', you played Eason Chan's wife, and your son was abducted. You yelled at the abductor through the phone, that expression in your eyes was very scary.
M: The director told me right in the beginning, the script didn't have much for this role, but there will be a
crucial explosive moment – which is the scene you mentioned.  Normally, a mother won't do so, when she is so fierce, the enemy would most probably kill her son, so I created a hysterical mood for myself, allowing my emotions beyond control and became irrational.
R: In the movie 'Sniper', you played as Richie Ren's wife. What was the mood then?
M: The role was a woman in a hopeless situation, again the kind of hysterical woman. My screen time was minimal, so the director, Dante Lam, demanded a precise strike. I enjoyed the filming process of the movie, because Richie, Huang Xiao Ming and I could watch 'Crayon Sinchan' everyday at the filming site.
R: I saw one of your movies 'Vengeance' in the Cannes Film Festival, and your role was quite outstanding there. You seemed to be Anthony Wong's lover, but the plot didn't really clarify it. When all the men died in the end, while you were expecting a child alone, you managed to seduce Simon Yam into a trap – that appearance was quite unforgettable too, it was the total opposite of the initial sloppy image.
M: Johnnie To gave me a big space. Even though my screen time was not much, but it was crucial finishing touch.  In the beginning, my looks were unkempt, and I was also shocked to see myself in the mirror. Later after the makeup, I was given a gold wig, and the effect was amazing.
R: Did Johnnie To teach you how to act?
M: I still remember that on the first day, my first scene was cooking, and I was very nervous, because I can't cook at all. Seeing Johnnie's and Anthony's serious looks, I thought they were very stern. Never thought that but director can cook very well, and even demonstrated to me. I felt very guilty because in the filming crew, no one else had needed his demonstration on how to act. After that Anthony, Lam Suet, and Gordon Lam all came to teach me.  At that time I felt that I was the only newbie there, and was afraid that my acting would be bad, dragging everyone down with me.
R: You look quite experienced in the movie.
M: It's all pretence! I'm usually very childish, I speak without thinking, and they always patted my head, and laughed that I'm just like a child.
'Rumor Queen' actually fears most about marrying the wealthy
Michelle Ye is a very ambitious woman. But not in the way that most people think, her ambition is not to be in spotlight or to marry a wealthy man. She wants to be like Hillary - not the first lady, but the current United States Secretary of State.
R: You've once had the label of 'Rumor Queen'. You've even been linked with Wallace Huo, Tian Liang, Xiong Ni, etc, because you've once said that you have a good opinion of these people. Is it really true that all of these are only rumors?
M: 95% of them are only hearsay, thus baseless.  Think it this way, I can't stop wishing to have 48 hours a day, how do I find time to date so many boyfriends?  I don't even have enough time to sleep.  I was definitely quite depressed to have them label me 'Rumor Queen', but I gradually learned not to take it to heart.  Which Hong Kong actress doesn't have this kind of experience?  I'm no exception. My trouble is when I think someone's good, I will say it out loud.
R: So do you have a boyfriend now?
M: I'm still single.
R: Do you want to marry into a wealthy family one day?
M: I certainly don't. I'm this gallant and how can I marry into such family? Moreover, I don't want to live in grievance just for the sake of wealth.
R: What kind of guy that you like?
M: I like a guy who has his own thinking, and is talented, it would be great if he's handsome. I also hope that he's an decent mn, disregard of his wealth. He has to go for his own goals, and must be a resolute man. Whether or not he's successful in the end is not important, particularly success in terms of wealth, I don't prioritize it.
R: I heard that your idol is Hillary Clinton? What are the things that you admire her for?
M: Yes, she's my senior in my university! I admire her for her independence, strength, and extensive knowledge. Of course, she's not that successful in her private life, and I won't learn that. I also admire Dodo Cheng, because she's a determined woman. I once saw her in a painting exhibition, but I didn't even dare to ask for her autograph.
R: Your idols are powerful ladies. What is your career goal?
M: I want to be a capable person! Qing yi can also be beautiful, as I love the more mature female roles, a historical figure like Empress Wu for example; or even an insignificant figure that gets close to life. I love to try things out. Tell you something, I've just had a haircut, and it's short, extremely short, I will appear with this hairstyle in Dante Lam's newest movie.
R: I heard that you often read books, especially history books.
M: Yes, actually my life is quite monotonous, only watching movies, chatting with friends, reading books, but it is already enriching enough for me. I've been rereading <Zi Zhi Tong Jian> recently, because it influences me greatly, allowing me to realize the difference between a gentleman (君子
and a villain (小人
at a very young age.
Personal Profile
Birth date: February 14, 1980
Zodiac: Aquarius
Chinese zodiac: Monkey
Blood type: O
Place of origin: Hang Zhou, Zhe Jiang
Height: 166 cm
Weight: 45 kg
Body measurements: 34-24-34
Education: Wellesley College, majoring in political science
Specialty: Learn dancing at the age of 6
Career Record
Michelle joined the Miss Chinese International 1999 and won the first place and the "Miss Classic Beauty" award. She also signed a contract with TVB in the same year. In 2005, she signed a contract with the Hong Kong film production and distributor company, Media Asia.
Filmography
Series: <Street Fighters>, <Reaching Out>, <Gods of Honor>, <Network Love Story>, <Eternal Happiness>, <Treasure Raiders>, <Golden Faith>, <Lofty Waters and Verdant Bow>, <Triumph in the Skies>, <The Driving Power>, <Evil Butterfly>, <Lost in the Chamber of Love>, <Hard Fate>, <Oriental Flower Maiden>, <The Herbalist's Manual>, <World's Finest>, <Central Affairs>, <Sha Jia Bang>, <Central Affairs 2>, <Liao Zhai 2>, <Jiao Yi Sheng Ma Ma>, <Tutor Queen>, etc.
Movies: <Lady Cop & Papa Crook>, <The Sniper>, <Vengeance>, <Murderer>, etc.
Celebrity Quote:
"德胜才谓之君子,才胜德谓之小人。"
"A moral man supasses that of a talented man."
Outer Image
Michelle Ye's looks are actually very 'oriental', her face slightly lacks the sharpness.  However, her eyes are very mesmerizing, a little make over, she can transform into a variety of styles.
Capability
I can see her capability in her movie, <Vengeance>. She could look very 'ugly', and can too be very 'beautiful'. Her maturity that surpasses her age is the foundation of her solid performance in portraying complicated roles.
Luck
Giving up her fa dan identity in TVB which every home recognizes proves that she's exceptionally courageous. Although HK and some other collaboration movies are mostly men-dominated, while women are only supporting roles, Michelle's recent roles have been unforgettable. Being conversant in English and Mandarin, Michelle will have more advantage over many other HK actresses to star in HK, China, and even the entire Asian collaboration movie production.
Michelle in the eyes of reporter
I had to contact Media Asia to make an appointment for an interview with Michelle, surprisingly there's an unrecognized number calling my cell phone soon after - it was Michelle calling me personally. But right at that time, I was doing something else, and hurriedly apologized to her, also asked if we could postponed it later when she very politely answered, "It's fine, I'm free in the afternoon, when are you free?" My colleague all laughingly said, "You put on more airs than a big star?" Indeed, being a reporter for so many years, I'm used to have big stars delaying our meeting, the only one who will asked me in return "When will you be free?", should be none other than Michelle alone.  It is only the first of the surprises to come.  In the interview later, her Mandarin so perfect she could be a host, her optimism in speaking of her father's abandonment, her frankness in expressing her disdain perception of marrying the wealthy… and not to forget 'Zi Zhi Tong Jian', they were all a shock to me.  Because this is definitely an entirely different person I had learnt from the gossip magazines.