| | |
| --- | --- |
| Posted by Kim on June 24, 2009 at 9:42 AM | |
Source: Apple Daily
24th Jun 2009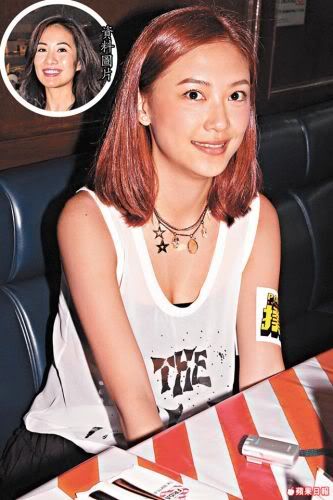 Cherrie Ying was present for shooting of new film 'Poker King', she initiated the topic on her boyfriend, Jordan Chan who will be having intimate scenes with 'Rumor queen' Michelle Ye, Cherrie reminded Jordan to not go overboard, and also declared that she will be personally at the set to watch over her beloved.
Being in the relationship with Jordan Chan for two years, Cherrie expressed on her own initiative that Jordan has finally found time to film 'Sand Blowing in the Wind' in Hong Kong, she said: "He finally returned, we've been in a relationship for two years, but have never been in Hong Kong together, only together in Hengdian and Beijing."
Cherrie got to know that Jordan and Michelle Ye will be having kissing and initimate scenes in the movie, she knew that Michelle Ye easily has rumors, and thus declared that she will be at site to witness, she said: "I know her (Michelle with lots of rumors), I've reminded Jordan, asking him to better not have any rumors."
Jealousy intense the air, Cherrie who is worried that their relationship will be affected said: "Jordan has told me before, Michelle and he hugged and kissed upon meeting, even him and I have yet reached the stage, if I weren't worried, I won't even mention this.  He must brush his teeth when he gets back, if not, he better not kiss me."  Cherrie expressed that Jordan is worried about rumors too, thus he daren't even steal a glance.