Source: Sina Entertainment
26th Jun 2009
Dante Lam's new movie 'Unleashed' began filming the night before last (24th June) in Hong Kong's Tsim Tsa Tsui where main leads, Leon Lai, Michelle Ye and Richie Ren performed outstandingly despite the extreme summer heat, playing a team of skilled detectives.  The crew were also equipped with a police vehicle, attracting quite a crowd to watch. 
At the scene, the filming was mostly to dialogues, and have yet any action scenes.  Leon in the movie has a moustache appearance, a breakthrough from the past, while female lead Michelle Ye has sacrificed her long hair to play a female detective, both appearance were refreshing for the crowd.  The plot was about Leon and Michelle at the scene of crime, where Richie Ren a police officer were outdoors to investigate a case.  Their expressions were serious in the movies, but in between breaks they were seen to be conversing and smiling warmly at each other, and also signed autographed for the public.
____________________________________________________________________________________
Leon Lai jumps off the building, hundred gather to watch
Source: Singtao Daily
26th Jun 2009
'Unleashed' starring Leon Lai and Richie Ren is recently shooting outdoor scenes in the market.  Leon was ealier on filming the scene where he had to climb the scaffolding 5 storey high, yesterday he was again in action, filming the scene where he was seen jumping off the building in Causeway Bay.  Before Leon took his place, the substitute located the position.  The position was lowered about 2 metres from the original height before Leon dared to climb up the scaffolding, and jumped off after a loud shriek.
The scene was crowded with almost hundred spectators, even with the pressure, Leon still personally filmed the 'jump off building' scene, heaving a sigh of relief upon accomplishing.
'Unleashed' was also filming last night at Tsim Tsa Tsui where Leon Lai, Richie Ren, Michelle Ye, Liu Kai Chi and Wilfred Lau were present together, attracting quite a crowd.  In order not to obstruct the filming and traffic, the crew was seen busy dispersing the crowd.  After they've taken their position for the filming, Richie arrived in his branded car at the filming site, appearing stylish and wealthy.  Meanwhile
Leon Lai and Liu Kai Chi played two detectives who came to the scene to meet up with Michelle Ye.
Michelle Ye kept away her sexy image in the film, and plays a tough policewoman.  She has scenes with Leon Lai, but appeared to have zero communication outside.  Leon walked towards Director Dante Lam every time they completed a scene, seeming to be avoiding rumor queen Michelle Ye as much as possible.
_______________________________________________________________________________
Source: Apple Daily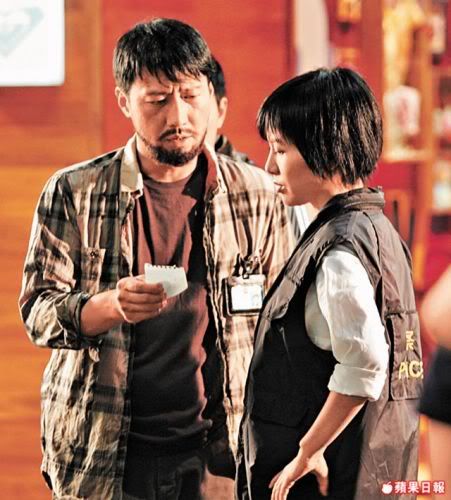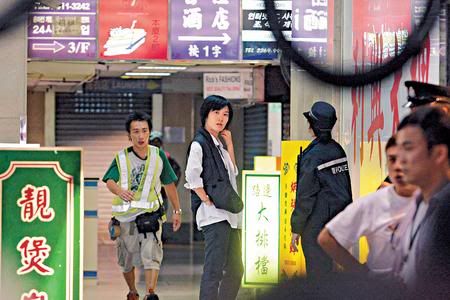 Leon and Michelle Ye with their entirely new appearance in the movie, different from the past image of handsome and beauty