| | |
| --- | --- |
| Posted by MYR on June 30, 2009 at 2:09 AM | |
Source: Beijing Sina Net
30th Jun 2009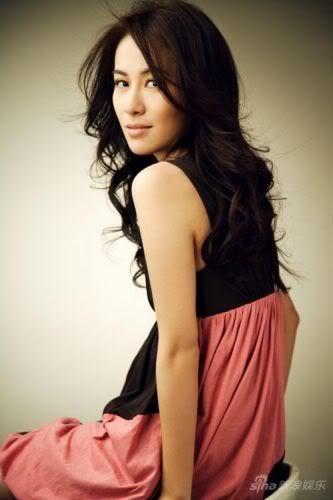 Michelle Ye a classic beauty
Renowned director Long Xiao Gang's 'Legend of Lady Yang' roles voting is coming to an end.  'Ancient classic beauty' Michelle Ye has won the role 'Lady Yang' from the support of netizens, emerging first among the nominated actresses.
Michelle Ye who has the dancing skills, warmth, beauty and popularity package is in lead of several other actresses by a margin of more than ten thousand votes, having the pre-requisite of the Tang Dynasty's first beauty.
Michelle Ye started learning Chinese ancient dance at the age of 6, and has a good foundation in dance.  She is also interested in ancient poems and phrases, and is good in calligraphy, as well as reciting with poise.  Michelle has also won the 1999 Miss Chinese International's 'Miss Classic Beauty' award, having the natural air of an ancient classic beauty.  Her label of 'Hong Kong's First Ancient Classic Beauty' confirms her recognition in the ancient beauty role.  Her iconic ancient classic beauty role would be Cui Ung Ung from 'Lost in the Chambers of Love'.  Ever since Michelle Ye changed her career from TV to big screens, Michelle's path seems brighter than ever, 2009 is the movie year for Michelle Ye, where she continuously works with Anthony Wong, Simon Yam, Eason Chan, Louis Koo, etc in 'Murderer', 'Vengeance', 'Dream Home' etc mega productions.  As she is recently busy filming with Leon Lai and at the same time leading in another new movie with Jordan Chan in 'Unleashed' and 'Sand Blowing in the Wind' respectively, it is still unconfirmed if she will be taking up the role 'Lady Yang'.