Source: Sina Entertainment
01 Jul 2010
__________________________________________________________________________________________
Michelle Ye's 'Choy Li Fut' fist stances are outstanding
_________________________________________________________________________________
'Choy Li Fut Fist' filming; Michelle Ye nearly kicked Wang Baoqiang's 'critical point'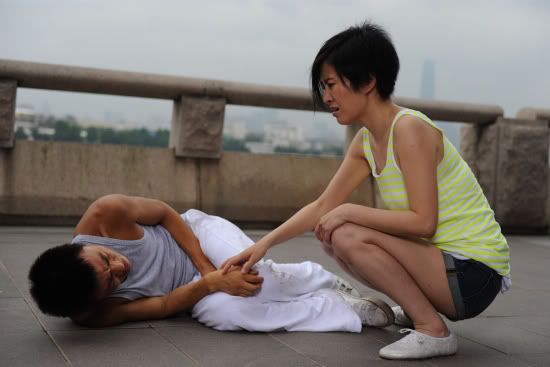 Leading Wang Baoqiang, Michelle Ye and with reputable actors Ng Mangtat, Kara Hui as support, 'Choy Li Fut Fist' has received much media attention since filming. Male lead Wang Baoqiang plays a youth who succeeds the Choy Li Fut fist stance who returns from overseas, and needs to shows off his English once in a while. Meanwhile female lead Michelle Ye plays a bubbly and adorable fighting athlete, and will have some action as well as love scenes with Wang Baoqiang. There was a scene where the two are fighting when Michelle Ye kicked too fast and nearly kicked Wang Baoqiang's 'critical point'.
About Michelle "Beautiful to look, ruthless to fight"
Although Michelle Ye is not from the martial arts background, as she learns dance and has solid since young, her skills are exceptional too. In 'Choy Li Fut Fist' Michelle Ye has a lot of fighting scenes with Wang Baoqiang, and the role she plays will often punch and kick Wang Baoqiang, and made this Shaolin background martial art master to 'suffer a lot'. Wang Baoqiang expressed, "Michelle Ye is beautiful to look at, but ruthless to fight with!" Michelle Ye is not only fast and accurate at fighting, causing him to be unable to defend perfectly at times.
About kissing scene "Like brothers, afraid of laughters"
Michelle Ye and Wang Baoqiang will be working for the second time in 'Choy Li Fut Fist' after 'Fire of Consicence', and they will be a 'bickering couple' this time around, Wang Baoqiang will need to proactively bring his love tactics around Michelle Ye, and will also be performing his first silverscreen kiss, when asked if it was awkward to kiss, Wang Baoqiang expressed, "My personal relationship with Michelle is very good, we're like 'brothers', hopefully no one will burst out laughing at that point of time."
It is revealed that the filming of 'Choy Li Fut' is wrapping up, and may become the tribute film for Asian games which may be hit the screens nationwide this fall.