| | |
| --- | --- |
| Posted by Kim on August 18, 2009 at 9:38 AM | |
Source: Sohu Entertainment
18th Aug 2009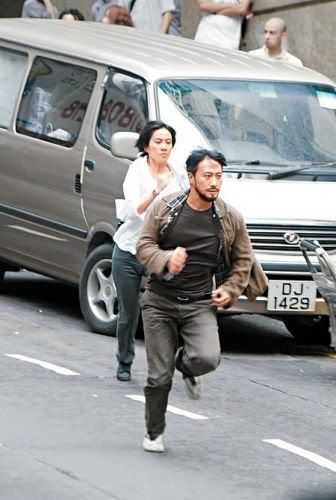 Leon Lai and Michelle Ye darting across the streets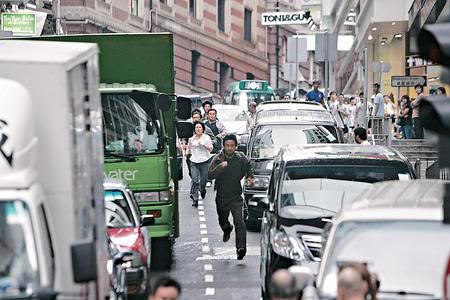 Before Leon's arrival, his substitute took position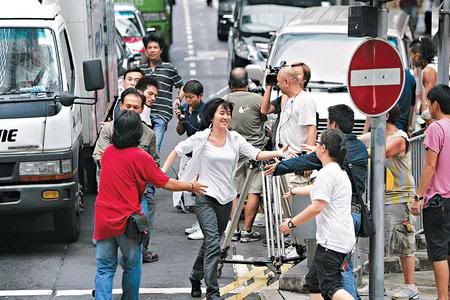 After Michelle's race, she walked towards Wang Bao Qiang who reached out for her.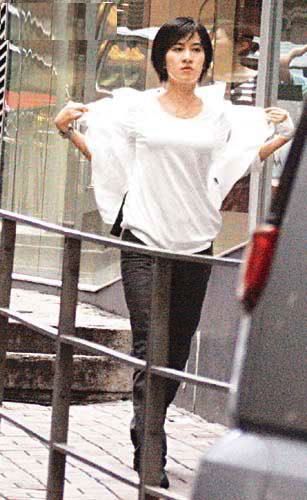 Michelle who was sweating profusely couldn't help but take off her jacket as she walked.
Leon Lai who is busy filming Dante Lam's 'Unleashed', was at Central's street with Michelle Ye and Mainland's actor Wang Bao Qiang, filming a chasing on foot scene.
It was said that during the filming there was an interruption when a security guard had an argument with the filming crew, where the security guard then reported for police force aid, claiming the crew blocked the streets. The police managed to settle the issue. When they began filming, they arranged a Leon-lookalike substitute to run first, the act appeared very dangerous as he was running on the street congested with traffic.
20 minutes later when Leon appeared an d got ready for filming, he got information from the crew and started filming with Michelle Ye, where they were both seen running on the road, with traffic not arranged by the filming crew, thus when they were filming, it was merely based on their own 'instinct'. They encountered several dangerous moments during their race, luckily Leon and his gang was exceptionally witty, and only required one to two takes before they finished the scene.