| | |
| --- | --- |
| Posted by Kim on September 6, 2009 at 10:28 AM | |
Source: Apple Daily
6th Sep 2009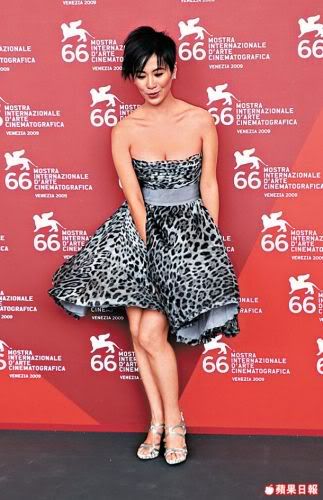 The sudden wind teasing Michelle Ye; hastily holds down skirt to prevent exposure.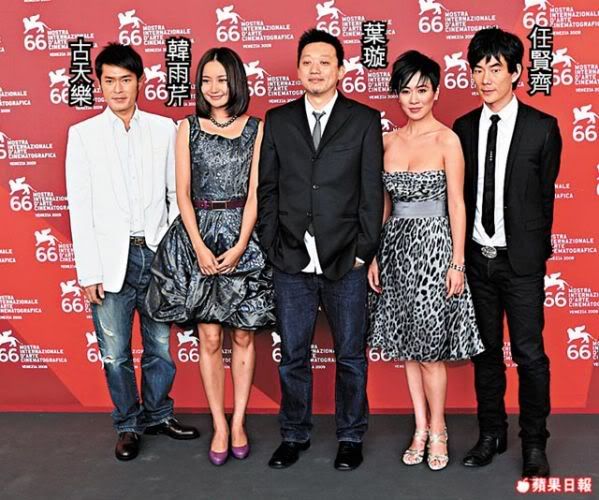 Director Cheng Pou Sui (middle) leading 'Accidents' cast to meet the media.
Louis Koo, Richie Ren and Michelle Ye were present at Venice Film Festival yesterday. Director of 'Accidents', Cheng Pou Sui represented Hong Kong to compete for the highest honor of Golden Bauhinia awards. Michelle Ye who has always been outstanding appeared holding down her dress like Marilyn Monroe, capturing all cameras, while Louis Koo voiced his confidence to win Best Actor awards.
Yesterday, 'Accident's crew includiung Louis Koo, Richie Ren, Michelle Ye, Han Yu and Director Cheng Pou Sui were present for press conference, with Michelle Ye successfully capturing all cameras in her sexy attire of leopard prints dress. During her individual shooting, there was a sudden gust, where Michelle hastily held down her dressed like Marilyn Monroe. Han Yu who wore conservatively appeared elegant and beautiful. Louis Koo in his white suit appeared dashing but he was somewhat neglected during the questioning session. Towards the very end, a China TV station asked him if he was confident to win the best actor's awards, he said: "I am confident to win the award, because I have put in a lot of effort towards that target." Richie Ren whose house was recently broken into, when reporters asked his opinion, he joked saying, "I suspect Director did it." And then seriously expressed: "After filming this movie, I felt that anything was possible."
____________________________________________________________________________
Source: Sina Entertainment