| | |
| --- | --- |
| Posted by Kim on September 6, 2009 at 11:49 AM | |
Source: Sina Entertainment
6th Sep 2009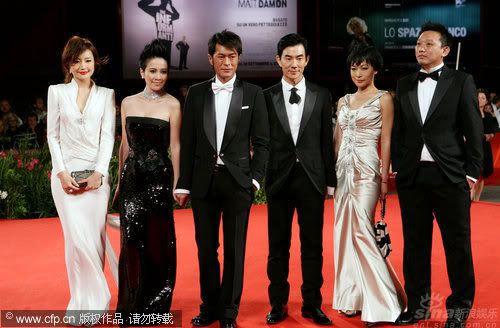 Directed by Cheng Pou Sui, and Media Asia production, 'Accidents' nominated in 66th Venice Film Festival will be having its permier tonight. On red carpet were Media Asia boss Lam Kin Ngok, director cheng Pou Sui, film male and female lead, Louis Koo, Michelle Ye, Richie Ren, Han Yu Xin. Louis Koo and Michelle Ye are members of an 'accident assassination organization'. Both were in their glitteringly elegant suits on the red carpet, appearing as the golden couple, dashing man with gorgeous woman caused fans to scream in excitement unceasingly.
Louis Koo and Michelle Ye present as golden couple
That night, Louis Koo and Michelle Ye were present as a sizzling with chemistry golden couple. Louis Koo appeared in his dashing knightly suit grabbing attention from all reporters, while Michelle was complementing him in her D&G night gown, both of them immediately becoming the focus of attention. Michelle was sponsored by top brand jewelry, the sparkling neck band gave emphasized on her short cut hair, while still exuding elegance. The two was labeled as 'unexpected golden couple' by their fans.
----------------------------------------------------------------------------------------------------------
Source: Wangyi Entertainment