| | |
| --- | --- |
| Posted by Kim on October 18, 2009 at 10:28 AM | |
Source: Sohu Entertainment
18th Oct 2009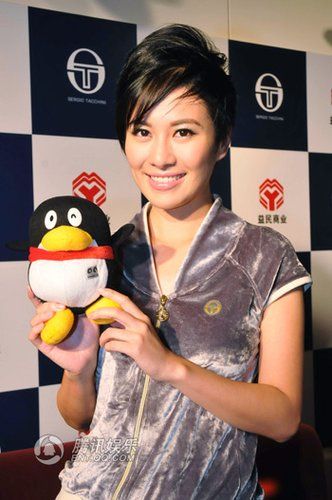 Michelle Ye and QQ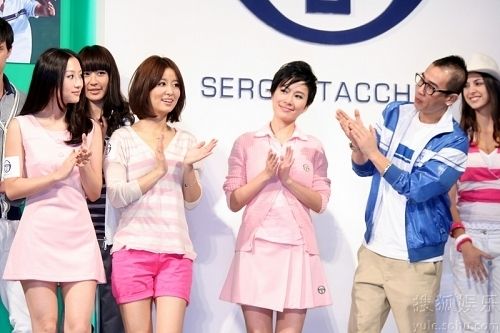 Jordan Chan, Ruby Lin and Michelle Ye were in Shanghai for the promotion of a certain international brand sportswear.
Jordan Chan who was rumored to be successfully engaged recently seemed to be in good mood. When reporters asked about the proposal matter, Jordan Chan appeared smug and said: "Actually I rarely fail at anything!" However, as to the next question on when they will be tying the knots, he played 'Tai Chi' (avoiding tactic) with reporters: "I still do not have enough money for wedding banquet, so I still must work hard to earn money, when I have earned enough, I will tell you!" Reporters were still not letting him go when he used Andy Lau as defense: "Everyone is talking about his matter now, but I don't think he has done anything wrong. Who are you to him? Why should he inform you when he get married? I think it all depends on the willingness of the artist to reveal, but they are not responsible to report everything to you!"
As for single ladies, Michelle Ye and Ruby Lin, both their perception towards relationship are quite different. Michelle Ye expressed that although she is not in a hurry, friends around her keep match making her. "Actually I do not have any exceptional demand on my partner, everything depends on fate. When friends introduce me, I instead ask my friend what demand does the other party have." Meanwhile, Ruby Lin expressed that she is currently enjoying her single life, it feels very fulfilling. As for what demands she has for her partner, she expressed: "I hope he is quite tall, and looks quite okay! He should be quite open and should be able to make me happy!" It seems Ruby Lin has quite some demands, the only thing she does not mind is the person's social status: "I don't think what the other person work as matters, I also won't particularly select someone from within the industry, as long as the feeling is compatible."
____________________________________________________________________________
Source: Apple Daily