Source: Sina Entertainment
15th Apr 2010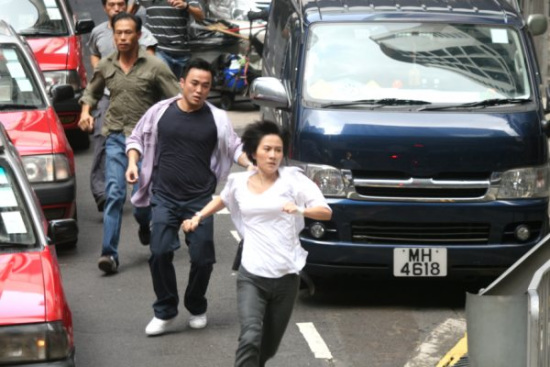 'Fire of Conscience' directed by renowned Hong Kong director, Director Dante Lam has hit the screens on 1st April in Mainland. This is a Media Asia invested police-bandit movie, casting leads such as Leon Lai, Richie Ren, Michelle Ye, Wang Baoqiang, etc popular actors. Among them, the comparison of Michelle Ye's and Leon Lai's acting becomes the highlight of the movie. Female lead, Michelle Ye plays a Hong Kong police officer, and is silently admiring her 'superior' Leon Lai, at the same time, the two are best partners at work. 'Fire of Conscience' is the transformation work of Michelle Ye, where in the movie, she sacrificed her 'beauty' image built in audience' hearts, and plays a tough and bold, as well as frank police officer. Besides the outstanding performance of her agile skills in action scenes, Michelle Ye also portrays simple admiration towards her superior, where her every word and gaze allowed audience to feel her detailed emotions.
In comparison to mega star Leon Lai and Richie Ren who've ventured the movie industry for quite some time, Michelle Ye, who debuted from TVB, in 'Fire of Conscience' delivered surprisingly impressive performance. Often, actors debuting from TV series are somewhat unfamiliar upon changing towards the movie industry. Because there is a big gap between the requirement of a TV actor and a movie actor, as TV scripts are usually longer than movies, and is not as demanding before the camera, whereas movie itself is quite a in depth performance, there may be several NG in one day, before they can select the most appropriate (scene) among them. This selective approach, requires a more skillful and solid acting onscreen in comparison to TV series, and as the filming of the scenes may not be in the correct sequence flow, they may be filming from one entirely different scene before skipping to another different one, it definitely demands a more skillful acting from actors. Therefore, several popular TV actors may not be as successful on big screen, and more often than not may be overshadowed by those purely movie actors. However, Michelle Ye who've participated in several successful productions such as 'Vengeance', 'First 7th Night', 'Accident' as well as 'Fire of Conscience', her performance in all are very impressive, and even let go of her 'flower vase approach' in acting, choosing to 'appear plain', wanting audience to pay more attention to her inner emotions scenes, this is definitely a very risky decision for an actress, because it may fail altogether.
There are two directors who've respectively confessed their choice of having Michelle Ye as their female lead, Johnny To mentioned her saw her 'heart' in movies, and is different from other actress; Dante Lam mentioned that Michelle Ye has the basic of dance, and is a plus for action movies. This goes to show that Michelle Ye is suitable for melodrama movies as well as action movies, 'Fire of Conscience' is a movie which proves both her such qualities. However, Hong Kong movies are more male oriented, therefore female roles are very minimal, however we do wonder if Michelle's determination can earn her a role tailored for her on big screen? Let us anticipate on!