Source: Sohu Entertainment
05th May 2010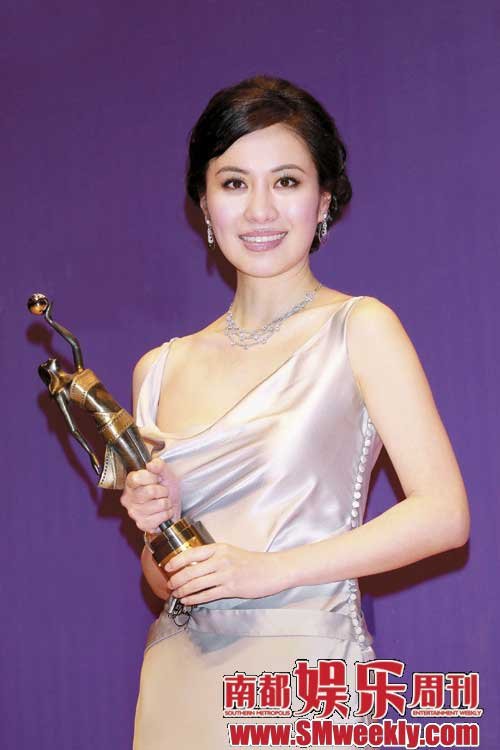 Michelle Ye winning HKFA Best Supporting Actress award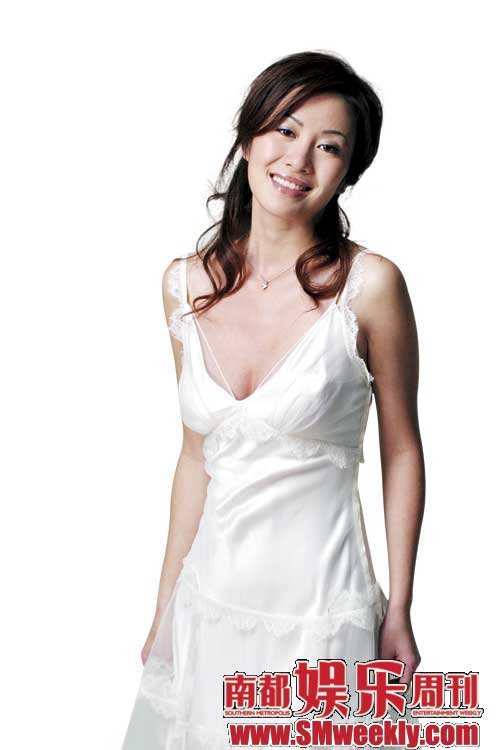 Michelle reveals other half's requirement: My other half must be in the industry
On the night of HKFA, Michelle Ye was filled with warm tears, even upon returning to backstage, her eyes were still red.  The day right after the awards, Michelle flew back to Shanghai to continue filming series 'Guo Se Tian Xiang'.  Life continues while work is forever ahead of life.  Michelle has come into the movie industry for 5 years since leaving the reliable income of hers as the TVB fa dan in 2005, and as a newbie back then, she lowered her pride the lowest possible.  She said she did not mind be it as the female lead or female supporting, she is happy to participate even if it was just dubbing, she does not feel that it is a waste of time, "If it really helps a friend, I feel very happy too, its worthy of my efforts despite the quantity.  Fan Bing Bing in 'Bodyguards and Assassins' was also nominated in HKFA, if she had won, I'd be happy too, because I contributed (dubbing) too."  Her appreciation speech that night are still ringing in ears: Even if you are just a backstage who prepares a simple prop, it is too a contribution.  With this logic, the emotions and tears that night must have been the happiness from recognition given.  However, she said: "I was emotional because I was afraid I might miss thanking someone, this award is not a mere recognition for me, I do not think a lot of people have changed their opinion about me just because of this award, be it my attitude towards work or my passion, what was there is still there, nothing changes overnight just because of this award."
Meeting the important people in the movie industry"Biggest achievement is friendship and kinship"
The hardship of venturing into the movie industry is undeniable, but Michelle Ye knows well to be grateful: "I think the memories behind and this award becomes perfect, (they) witnessed our experience."  She repeatedly highlighted this point that the crew and cast were close as a family when filming 'Accident'.  Producer Johnny To and Director Cheng Pou Sui filmed for as long as 17 months.  When initially joining this 'male dominated crew', Michelle felt very nervous but after few days she realized "everyone is very nice and friendly".  She said she got to know a lot of good friends through filming 'Accident' such as Richie Ren, Louis Koo, Cheng Pou Sui, "Having these few friends is good enough for a lifetime."  When going to Venice for the film festival, Michelle Ye who grew up with her divorced father felt that it was just like a family going for a vacation, exceptionally warm.
How Michelle came to the movie industry was a pure coincident.  In 2005 when she was filming Mainland series 'World's Finest', Director Wang Jing asked if she was interested to progress into the movie industry, and then led her towards Media Asia Films under Mr. Lam Kin Ngok.  Michelle Ye who was then known as the successor of Jessica Hsuan, was once advised by Jessica not to simply leave such a 'reliably shady' tree, however now that she has found another big tree, "Maybe I'm lucky, in Media Asia, Dante Lam, Alan Mak did not know who I am, but they requested me to film, and it all started rolling after the first, I've to date worked with each of them for two to three times."  In the recently released 'Fire of Conscience', Leon Lai and Richie Ren both like to call her as 'Chu Lui' (pig girl), Michelle said this is because she is often very 'chu' (blur), the two big brothers are earnestly introducing boyfriends to her, yet she complained matchmaking as outdated.  While filming 'Fire of Conscience', Vivian Hsu appeared glamorously and beautifully causing Richie Ren to give up his career for his beauty, while Michelle Ye instead cut off her long hair and carried an AK47 running around the streets with a thick bearded Leon Lai, and is as happy, because the filming requires such appearance and to avoid injuries: "Chin Ka Lok was the action director of the movie, everyone taught me, tipped me, I became the most protected species (of the crew)."
The one who influenced Michelle ye most is none other than her said 'mentor' To Sir, Johnny To.  "Back then when I just left TVB, it was really hard to film a movie, there was no such case in the recent ten years,  no one gives a TV actress a chance.  However, To Sir has the spirit of a warrior, he felt that this girl can do it, and discards all other objections and insisted to use me.  Actually, I did not know him back then, it was not because we knew each other well that we worked together."  Meanwhile, Johnny To's personal teachings influenced her deeply, "His topics are forever within the movie, he is like a warrior, using the wisdom in life in movies, he gives all in into his movies."  Last year, the crew followed Johnny To to Cannes for the film festival, Michelle watched 17 movies, "Very happy to be able to go to the festival, able to feel foreigners' passion towards movies, everyone went watching movies, it is a happy moment.  There is no VIP (watching movies), doesn't matter if you're a big star, you still need to queue, need to be under the sun and queue for two hours, and if its full you're not allowed to enter.  Although it is quite pitiful, but we are not sad."
Hard to forget her roots
"All my basic skills are taught by TVB"
Michelle Ye was studying her tertiary studies in United States' Wellesley College, her seniors include Hillary, Song Mei Ling, etc, at 19 years of age, she participated in Miss Chinese International pageant and won the crown as well as 'Most Classic Beauty' award, and becoming TVB's fadan through 'Eternal Happiness' after joining for just a mere two years.  She wished to explore further and thus at the age of 25 she progressed into the movie industry.  Her colleagues of same batch include Tavia Yeung and Myolie Wu who are now the TVB fadan, while she has gone for the big screen, be it the theme or the market or the industry, the movie definitely has a bigger world.  However, Michelle definitely has not forgotten her roots, in her nervous appreciation speech this year, she did not forget to thank her previous company TVB, her sincerity and loyalty is moving.  "All my performance skills, basic skills are taught by TVB, my relationship with my colleagues (previously in TVB) are still as good."The biggest dilemma when leaving TVB back then, "TVB is my first job, friends around me have been working in TVB since their teens and cannot imagine leaving (TVB)."  According to the later internal reorganization of TVB, Michelle Ye could be considered Virginia Lok's subordinate, meanwhile Ms Lok and Mr Lam Kin Ngok are very close.  When Michelle left back then, there was no obstacle, instead, 'wanted youngsters to have better advancement', and Michelle, unlike certain celebrities who were disregarded just before leaving, the company instead gave her another leading script of 'The Herbalist Manual'.  Michelle Ye reckons that she is very lucky because she has good 'social relations', she meets with all the kind people, the one thing she dreads leaving behind is the relationship built with the previous company.
Love life as in movies
"Appear coldly calm outside, inner heart is emotionally rich"
The outer world evaluates Michelle Ye as two extremes.  Few years back when leaving TVB, she faced with the challenges of changing her career track from the series industry to the movie industry, from fadan to a mature role, to become a celebrity before becoming an actress, and therefore shoot sexy photos, having rumors, being savagely hunted by Hong Kong media as though the shark charging upon sensing the tempts of blood, and she was crowned the 'Queen of Rumors' for a period of time.  Until now, the gossip post of her ten most rumored boyfriends are still a high hit on the net, the list includes, Wu Jing, Xiong Ni, Ye Maoqing, 'Shell King' Chan Kwok Kiong, Godfather Zheng Yutong, etc, where she only admitted to Benny Chan who was once her boyfriend.  In the abundance of rumors and gossips, it seems to have molded an actress who never stops striving to succeed, "There is no need to respond anymore, it does not matter for those who does not know me to misunderstand me, while those who know me will never misunderstand me in the first place.  I seldom watch entertainment news, I'll do my best in my work, and live to the fullest my life, I don't give much attention to such news (gossips)."She confessed being the dumbest among her friends, while others deem her as a very talented one, it is only on her blog, that her inner emotions can be seen.  Michelle revealed that she has read 'Zi Zhi Tong Jian' and 'A Dream of Red Mansions', her blog is richly filled with variety of literature (ancient Chinese).  Michelle hopes for her many friends to forgive and understand her, because she is too busy, she has not much time to put in (blog writing).  When receiving awards, her phrase 'I see you' to Louis Koo seemed to suggest some ambiguous feelings, now everytime Louis Koo is mentioned, she seemed to be able to talk the topic away.  However, she admitted she has someone to progress in relationship but is too busy and has chosen to put it away for the time being, "I think its mutual understanding, won't miss it, I have the confidence.  I hope to find someone in the industry, at least both of us are passionate about movies, my friends are mostly people in the industry, thus my boyfriend or husband should be too, might not have too many topics in common with people outside the industry."