Source: Wen Ya Pao
24th May 2010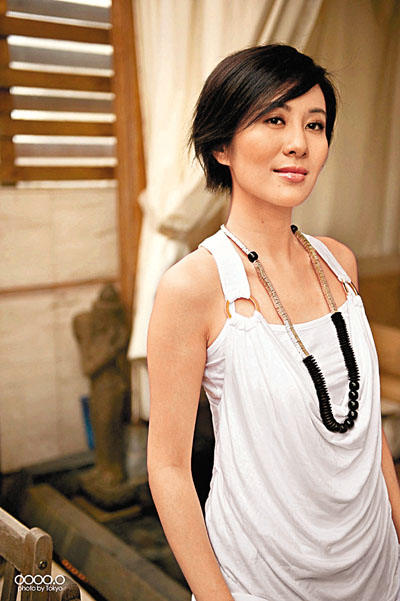 Newly honored the HKFA Best Supporting Actress award, Michelle Ye plays Jordan Chan's wife in 'Once a Gangster', Michelle Ye expresses her collaboration with Jordan this time seems like a dream come true. In the past, the roles Michelle played are mostly witty and bright, this time around however she changes to become an easily impassioned person, wife of the past triad society leader who is a little foolish. Michelle Ye admitted this role is not much a challenge as it is very much acting who she really is, and director too took the opportunity to that she is 'foolish' enough for the role. In the recent years, a lot of junior actresses are changing from TV screens to big movie screens, when asked what tips she has to teach her juniors, she humbly admitted that she has yet enough qualification to teach anyone.
It is hard for anyone else to understand Michelle Ye's emotional moment upon going onstage to receive HKFA's 'Best Supporting Actress' award. In 2005 when she left TVB to join Media Asia Films, she aimed to progress towards the big screen, seeing the movie career as her lifetime career, however she was instead given unsupportive comments by a good friend of hers who is a director, saying no one will want her as their female lead. Luckily, she did not give up but worked in silence and is now finally reaping her successes. " It is a very big surprise for me to win the 'Best Supporting Actress' award this time, but I need to return to Mainland immediately to continue filming my series, thus that emotional moment of mine has gone. A lot of people asked me if I target to win the 'Best Actress' award next after winning this award, but I have not even thought about it, and never thought of readjusting my position, and it is not a new turning point of my career as well, for me, be it the lead or the supporting or any minor role, they are all very important to a film."
Wise judgment of director, recognizing talent from the start
In fact, Michelle's passion towards movies has long been recognized by director's wise eyes, Felix Chong was among them. When filming 'Moonlight in Tokyo', Director Chong has been using Michelle Ye, including the new movie this time, the two has worked together for three times. "This is my third time working with director Felix Chong, the biggest difference from the previous movies, was that the Alan Mak was the director while Felix Chong is the scriptwriter, this time around he does it all himself. Director Felix Chong is a very chatty person, he is the one who watched me grow. My personal character is very extreme, others may think I'm witty, but I'm actually quite foolish, when filming 'Fire of Conscience', Leon Lai and Richie Ren like to call me 'Zhu Lui' (Pig Girl), I believe director likes this 'foolish' me, haha!"
Regular visitor of film festival
Because of 'Fire of Conscience', Michelle cut away her years of long hair. Such a cut just goes to show how much she prioritizes movies. Michelle also mentioned a funny incident during her visit to Cannes Film Festival with her honored mentor Johnny To, "Last year when the crew and Johnny To went to Cannes Film Festival, during our departure, a lot of people advised me to accept more interviews to get more exposure, but upon reaching, I in fact rejected quite some interviews, I do not regret it now too, because I got to watch 17 movies instead. The happiest memories are of the great passion the foreigners have for movies. There is no VIP for watching movies there, even if you are a movie star you still need to queue. I remember there was once I had to be under the sun for 2 hours, and had to go early to queue otherwise you won't be able to enter once its full. Everyone went watching movies happily when the funniest thing happen, I was alright even after being under the sun for 2 hours, but the umbrella I used for protecting from the sun for two hours, after entering the air conditioned room, when I wanted to open the umbrella after watching movie, the supporting steel of the umbrella broke loudly, 'pa, pa, pa', even I disagreeistant laughed at me. Although it was quite pitiful, but I was alright. Actually even in Hong Kong I am a regular visitor of the culture centre, but you know how Hong Kong film festival is, the time in between movies are very close together, can hardly find time to eat anything in between, there was once I was so hungry I wanted to eat an apple in the movie, but my friend beside me complained that I was too noisy."
First attempt as a fighter
Michelle Ye who debut from TVB is the female lead upon debut, she was the hot fa dan back then, yet at 25 years of age, she walked away to enter the movie industry. Now, a lot of juniors are also involved in the big screen, does she has any advice? "Wa, I'm also a newbie in this industry, I'm still at the learning stage for many things, I find passion and fun among them, don't have much advice whatsoever. Actually, it was a natural transformation back then when I entered the movie industry, in 2005 when I filmed Mainland's 'World's Finest', Director Wong Jing asked if I have the interest to progress into the movie industry, I responded with an answer, "Can I?", Brother Jing said he is won't be wrong about anyone, and thus introduced me to Media Asia's boss, Lam Kin Ngok. When I met him, he asked if I have intentions to film movies, I was very careful, thinking that TVB is my first job and an environment I am so familiar with, have never even thought of leaving, on the other hand filming movies is a dream of every actor, after much consideration I followed the voice of my heart to join Media Asia. I thank TVB so much for teaching me the all the basics of acting. I also thank my current company which gives me so much freedom of performance, allowing me to focus on what I wish to do, not being influenced by other factors. I see the movie career as my lifetime career, for as long as movie needs me, I will be here for it. Even if I am no longer an actress, I can be the director, or anything else that has some connections with movies. I will be accepting a fighting movie soon, to play a fighter, I have also accepted another challenging role, that is to play a lesbian prostitute. I wish to try all kinds of roles, except for pornographic movies, but for constructing movies such as 'Dream Home' I am still willing to film it."
Interview & Photo: Jik Ngai Yi
Hairstylist: Patrick So@HH SALON  
Makeup: COCO WONG  
Attire: French Collection  
Venue: The Bali @ Nathan Hotel