Source: Sun Daily
14/08/2006
Article: Special Case group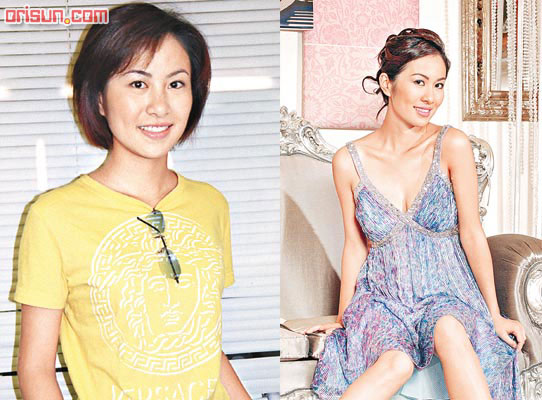 The make-up and appearances of beauties in the entertainment circle during their appearance is definitely continuously an explosion.  This time, we bring everyone to have a glimpse of Li Zi (Gigi Lai), Lam Kar Yan (Karena Lam), Kary and Ye Xuan (Michelle Yip) etc. of their looks 'Back to when yet sophisticated'.  Back then, Gigi Lai's favorite is to wear jeans shorts, totally different from the fully ladylike person she is today. 
The female stars who debut in the 80's & 90's such as Gigi Lai, Karena Lam, Michelle Yip  and Teng Li Ming (Joyce Tang) etc, are labeled as the circle's beauties, but looking back to their appearance when they first debut, really don't dare to compliment – they don't know how to make-up and are also '娘'/'liong'.  Luckily, they improve with the trend, as long as they have an expert image consultant by their side, now everyone compliments!
The expert aids Kary in appearance make-over
Among the new generation of female stars, the one with the biggest change in appearance is Wu Yu Fei (Kary), a previous member of Cookies.  When debut, she is sloppy, exactly like a primitive being.  Even though she now progresses individually, Kary has a big change in her appearance.  She often puts on short skirt showing off her lanky legs, her confidence is fully returned!
Gigi Lai - Little 'tiger' brows plus beauty-loving goddess
Gigi Lai has a good body, was labeled 'beauty-loving goddess' during her debut.  Back then, she loves to wear jeans shorts most, and has a daring image but has brows that are too coarse for liking.  After the refined of her brows, Gigi's beauty is still so, plus her make-up is becoming more ladylike. 
Karena Lam's tummy fat, people sees lined tight, body hugging garments.
"After entering this line for eleven years, last time, because of baby fat, I wish very much to lose weight.  I simply eat slimming pills causing my heart to pump faster and hands shaking.  Now, even though fat, I will not take medicine anymore, I will rather do some exercise.  As for gowns, last time also quite '娘'/'liong', like tight body, hugging gowns. Haha!"
Michelle Yip – hot lady selling big package
When Michelle first debut, her appearance is rather conventional, her upper garments wraps up till her neck, but in the recent years, Michelle exposes her sexy image.  Every time attending in a public function, she will surely appear with low chest cut.